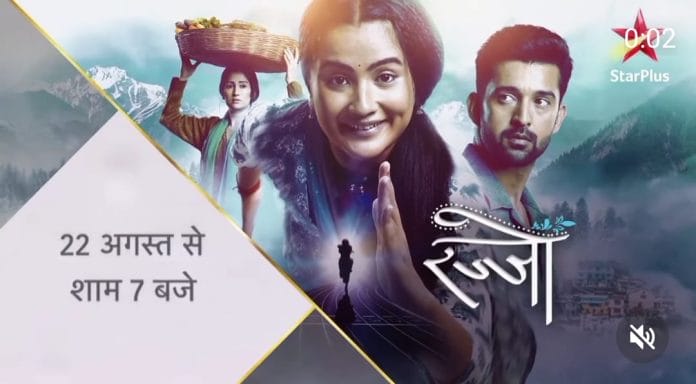 Rajjo Upcoming Story, Spoilers, Latest Gossip, Future Story, Latest News and Upcoming Twist, on Justhowbiz.net
The episode starts with Rajjo venting out her frustration. She sits on her knee and shouts why Arjun lost trust in her all of a sudden, why he wants to win the race. She shouts that she should win the race for her mom. She takes a resolution to win the race at any cost. Pushkar says to the man who acted as a jeweller in his plan to instigate Arjun against Rajjo. Pushkar asks him to increase Manorama's treatment costs so that Rajjo gives up on her mom. 
Rajjo is in the market. She is on call with Kaka. The latter says that the doctor refuses to treat Manorama without paying the fee. Rajjo says that she will arrange money anyhow. The man who praised Rajjo's running skills and advised Rajjo to join the sports academy passes by that side, in his scooty. He stops seeing Rajjo. He says to Rajjo that he saw her practicing last night. Rajjo says that she is taking part in the Diwali race. He offers to help Rajjo as his daughter, who was also an athlete, died in an accident when she went for her training. He says that his daughter asked him to help those who aspire to become athletes before dying, so he helps the players. He says to Rajjo that she can call him Mr. Sina or catch. He says that he trains the players. He gives her a few tips to win the race. He asks her to run wearing shoes and not barefoot. He leaves. 
Madhu finds Chirag sleepy on the sofa in the hall. Madhu understands that  he started to drink again and wonders why. Kalindi worries whether Chirag learned about her affair with Rocky. Pankhudi calls out to Rajjo. Madhu says that she sent Rajjo to the market to prevent her from practicing for the race between her and Rajjo, which will happen after two days. Just then, Rajjo comes lifting heavy bags. Jhilmil mocks Rajjo. To everyone's surprise, Arjun takes the bags from Rajjo. He announces that the race will happen that evening at 5 pm, which shocks Rajjo. He tells her the areas that they have to cover during the race. Rajjo says that she knows those areas. Rajjo asks why h scheduled the race so early. She says that she didn't get a chance to practice. Arjun mocks Rajjo, asking if she's scared. He asks Rajjo to admit that she's sacred and accepts the defeat. He urges Rajjo to decide quickly to either compete with him or accept her defeat. Rajjo accepts to compete. She says that she will arrive in time to win the race and  to crush Arjun's attitude, arrogance and anger. 
Rajjo goes to the storeroom. She clocks it and cries hard, venting out her frustration. She shouts that she will win the race for her mom. Meanwhile, Arjun goes to his room and expresses his hatred for Rajjo. He says that Rajjo cheated him by lying about her mom. He is determined to teach her a lesson so that she will never cheat anyone hereafter. Here, Rajjo cries, holding her mom's medal and says to herself that everything will be fine. She wiles her tears. She gets up and wears her mom's medal around her neck. She says that she will win for her mom by wearing her mom's winning medal. She says that she's not alone, her mom is with her, so she will definitely win. The Rajputs call out Rajjo to do household work. 
Later, Rajjo sits tired after doing the household chores. She says to herself that she shouldn't get tired as she should win the race. Chirag brings an energy drink for Rajjo and asks her to bottom up. Rajjo obliges. Rajjo asks Chirag not to drink alcohol again. Chirag says that he will try. Chirag says that he isn't against Arjun, but he won't leave Rajjo's side. Sia gives Rajjo the jersey she made for Rajjo with Sagar's old shirt. Rajjo thanks Sia. Chirag motivates Rajjo. Arjun and Rajjo get ready for the race. 
The episode ends. 
Precap: Arjun and Rajjo race. Rajjo wins. Arjun faints. Thakurs rush Arjun to the hospital. Kaka phones Rajjo and says that Manorama will be left to die in the streets if they don't pay the hospital fee. Rajjo says that she will handle both of the relationships. 
Click to read
Rajjo 8th November 2022 Written Update: Rajjo advises Chirag