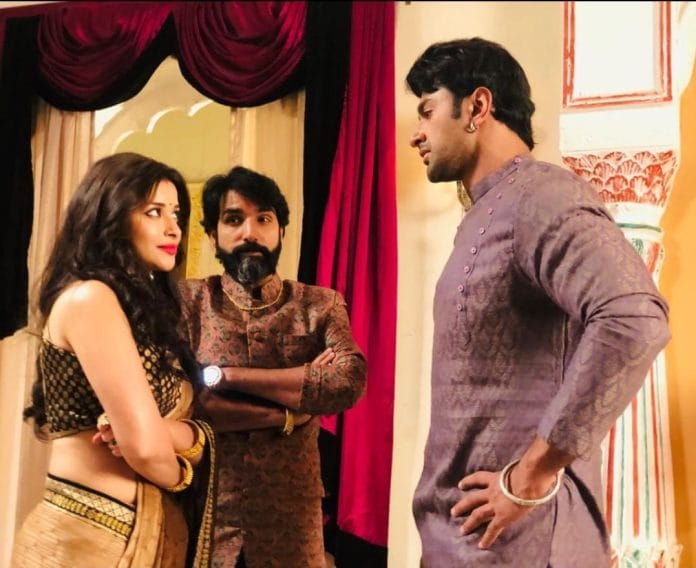 Rakshabandhan Spoilers, Upcoming Story, Latest Gossip , Future Story, Latest News and Upcoming Twist on justshowbiz.net

In the Monday episode of Yash and Mamta Patnaik's "Rakshabandhan:  Rasaal Apne Bhai Ki Dhaal" we see that Shivraj comes to Rasaal's room to check the signature, he puts the nariyal on the file when he hears some tick-tick sound. Moong and Chakori were hiding outside the room and told him that it's coming from a clock.  
Later, Kanak comes to Rasaal's room for some work. Rasaal gives her the keys and as she starts looking around, the nariyal falls. Kanak puts it back on the file but as soon as she puts it back, it blasts. Kanak falls on the floor unconscious.
Shivraj picks her up and puts her on the bed. Moong and Chakori rush out to call the doctor, while Shivraj cleans Kanak's face.
While Kanak is angry at Shivraj, Dadi shouts at Moong and Chakori. Shivraj brings a rod and bends it in front of them. He threatens them that if they continue to do things like this he will punish them like that.
Will Chakori and Moong learn their lesson? To know what happens next, keep watching "Rakshabandhan: Rasaal Apne Bhai Ki Dhaal".
"Rakshabandhan: Rasaal Apne Bhai Ki Dhaal", produced under Beyond Dreams Entertainment, features Nishant Malkhani, Varsha Sharma, Vaishali Takkar, Farman Haider, Nyrraa M Banerji, Prachi Pathak, Ajay Sharma, Sanchita Bannerjee, Soneer Vadhera, Manish Purohit, Yogendra Nath, Aparna Agarwal, and Anurag Vyas.