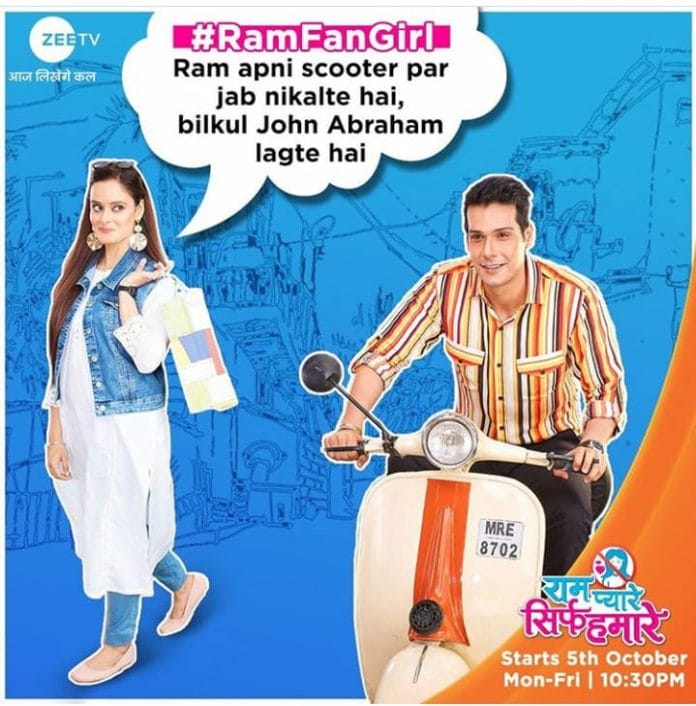 Ram Pyaare Sirf Hamare Upcoming Story, Spoilers, Latest Gossip, Future Story, Latest News, and Upcoming Twist, on Justhowbiz.net
The episode starts with Dulari asking who Santoshi? Patang told me that she is his friend's sister. She believed in her husband more than brother. She had thrown her brother and after some days her husband left her and ran away with the women from the neighborhood.
Dulari asks Patang to stay as it was night .she asks him to go in the morning. Patang asks her to take Ram's test. Dulari asks what kind of test. Patang says no no you can't take jija ji's test. That too of loyalty.
Dulari says she can. Patang says then take it. Dulari says I have full faith in Ram but to shut your mouth I will surely take his test. She sets 2 o'clock alarm n says I"ll show you my Ram is as pure as gold before this alarm rings and then will throw you out. she gives the clock to Patang and goes. Patang gives wicked smile.
Dulari talks to God and says in the influence of Patang told me that I will take Ram's test but you only give me some sign if I am making a mistake or not. Patang comes with a Tiffin box and says it"ll take Jija Ji's test. He explains something to Dulari. She hesitated but then takes the box. She thinks to get the truth out about Didu she has to do this.
Ram comes home calling Dullu. He pinches her cheek. Dulari gives him a tiffin box . Ram says he will do lunch only with her. Dulari smiles and says this tiffin is not for you, it's for Didu . And asked him to give it to her. Ram gets shocked. He makes excuses. Dulari says ok she"ll give it. But Patang signals her to not take it . Dulari somehow convinces Ram to give tiffin to Koyal.
And she asks him to not open the tiffin box.
Irfan keeps narrating a story meanwhile Ram is shown going towards koyal's house. Dulari and Patang keep watching him from window.  Ram rings the bell. Koyal opens the door and smiles. She greets him and ask how he came here. Ram says Dulari has sent this box. Koyal ask him to come inside. He denied but she drags him inside forcefully and shuts the door.
She asks him to relax. She says she had made Prasad for him. Patang watches inside koyal's house through window.  Koyal closes the window.  Dulari is seen praying to God. She says she is getting impatient. Patang says he will record Ram and will show to Dulari and then he can be able to stay in her house.
Patang again opens the window slightly and starts recording. Koyal is seen standing in front of Ram and ask him to eat the Prasad . Ram goes far from her.  She took a spoon of Prasad and ask him to have it.
 She makes him remember the shaitan devta incidence. Koyal looked at the window and gets suspicious. Ram looked at her . She goes and again closes the window causing injury in Patang's finger.
Dulari is seen pacing here and there. She keeps talking to God. And says her Ram will surely pass this test and then she"ll throw Patang out. she saw the time and it was about to be 2 o'clock.
Patang comes and says he is going as there is nothing left to see in this world. Dulari asks why his fingers are injured. He said his fingers are only injured but her heart will get injured. Dulari said she isn't getting anything. Patang told them he recorded Jiji ji. He shows his mobile to her. She plays the button but the sound doesn't come.
 In the recording, Ram is seen sitting on the bed.  Patang keeps smacking his phone but the sound doesn't work. He says he has seen from his own eyes. There were lovey-dovey talks going on between Ram and Koyal. That time koyal comes with a tiffin box and greets Dulari. Patang hid behind the pillar.
Koyal taunts Patang and asks about his finger injury. Dulari asks how she comes here. Koyal says that she enjoyed the "Khayali pulao" that Dulari made for her. Dulari says why are you saying like this. Koyal says the box was empty so I thought it will be "Khayali Pulao" only.
Dulari says the box wasn't empty as it was filled with belief.  Koyal said if u sent this with a belief then I am giving it to you, filling it with love.  Dulari takes the box. Koyal says there is Prasad inside it. She says I tried to feed Jija Ji this Prasad but he said he will eat it only with his lovely Dullu's hand.
Koyal praises Dulari and Ram's Jodi. She goes from there. Patang said Jiji was lying. Clock ticks 2 and Dulari throws Patang's luggage out. She asks him to leave. Patang tries to convince her but she shuts the door.
Patang is seen eating pakora and thinks when Dulari will get to know about Ram and Koyal then she will regret and will remember him. He curses her that soon  she will see Ram in someone else's arm.