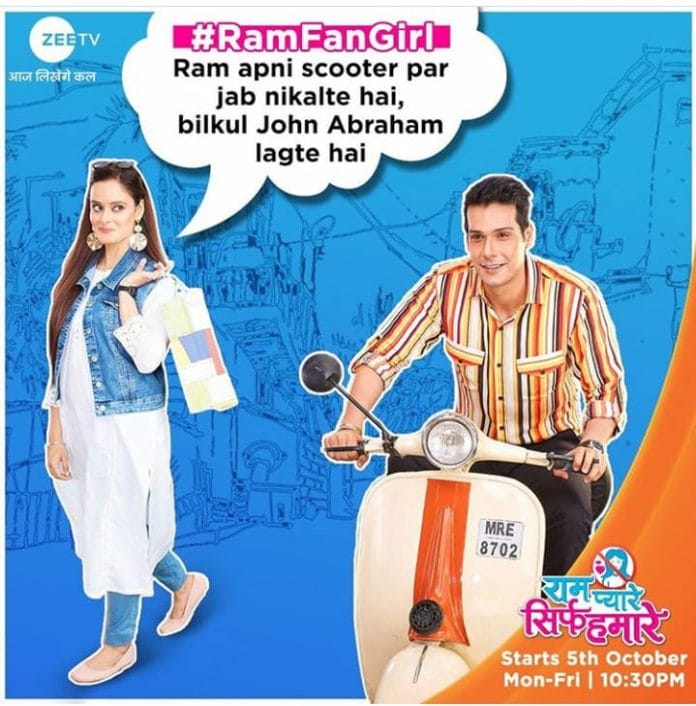 Ram Pyaare Sirf Hamare Upcoming Story, Spoilers, Latest Gossip, Future Story, Latest News and Upcoming Twist, on Justhowbiz.net
Episode starts with koyal happily entering inside her room and shows her gratitude towards Menika for preponing the marriage date while Menika wears Koyal's earings saying that she have taken it herself as a gift from koyal, Koyal's gazes her informing that she was about to gift Menika real gold but she herself took bentex earings then what can she do?
Menika gets shocks hearing about it and removes the earings giving it back to koyal and demands for something expensive while koyal smirks saying no-one can take her things without her permission, at that time Kinkshuk comes there crying loudly while koyal ask about the matter to which he says that it's tears of happiness as Dulari started loving him!
 koyal and Menika laughs while koyal caresses his bald head and says not to hallucinate. He told her that Dulari asked him for date making Koyal and Menika suspicious, they asked kinkshuk not to go to date with Dulari while he gets stubborn and says he will go on date and leaves from there, koyal gets worried that he will blurt out the truth about accident in Dulari's fake love and ask Menika to think something while Menika smirks evilly.
Menika goes to Rudra Prasad and fills his ear against Dulari, she further informs him that Dulari is damaging his reputation by going on date with kinkshuk before marriage while he screams Ram's name making Menika smile, he goes inside and shouts at Ram for marrying a girl like Dulari, he calls kinkshuk and slaps him making everyone shock and further declares that Dulari won't go to date with kinkshuk before marriage,
Dulari agreed to Rudra Prasad but says that kinkshuk's mental health is not stable and if she doesn't go with him then he will do something, she signals to kinkshuk while he starts acting like a Maniac, koyal says that there is one solution to it as she and Ram can accompany kinkshuk and Dulati, to which Rudra prasad agreed making Ram and Dulari shock, later Dulari ask Ram to handle koyal while she will manage kinkshuk and he agrees to it, on the other side Koyal and Menika smirks.
Dulari comes to her room and found it fully decorated, she smiles and says Ram's love is increasing day by day while he comes from back and starts dancing with her ( Mai ho saath tere plays), they spend some romantic moment and hugs each other, she hears kinkshuk voice and comes back to reality as she was imagining Ram. She fakes a smile and ask how he came here?
To which he says that he can do much more then this for her, he gives her bouquet and then a dress while she gets stunned seeing a sleeveless western dress and says that she can't wear it, kinkshuk gets angry and says if she will not wear it then he will cancel the date, Dulari gets shocked hearing him and then agreed to wear it while Ram looks at them from window and fits his hand, he comes inside while Dulari shows him the dress, kinkshuk glares at Ram.
Dulari says that she will also send kinkshuk his outfit and he have to wear it for the date, to which he agrees and then goes from there, Ram gets angry at kinkshuk while Dulari calms him saying soon they will get to know about who pushed PadmaBhushan in front of car and then they will get rid of every problem.
Koyal gets shocked seeing Kinkshuk in weird attire at restaurant and says that he is looking like a mad while he blushes saying it's gifted by Dulari and he is already mad in her love while koyal warns him about Dulari.
At that time Dulari comes there in saree making kinkshuk disappointed, he ask her the reason for not wearing his gifted dress to which she says that the dress got teared while trying and as she couldn't cancel the date so came in saree. Koyal says why Dulari have given such weird clothe to her brother while Dulari suppress her laugh and kinkshuk looks at her.