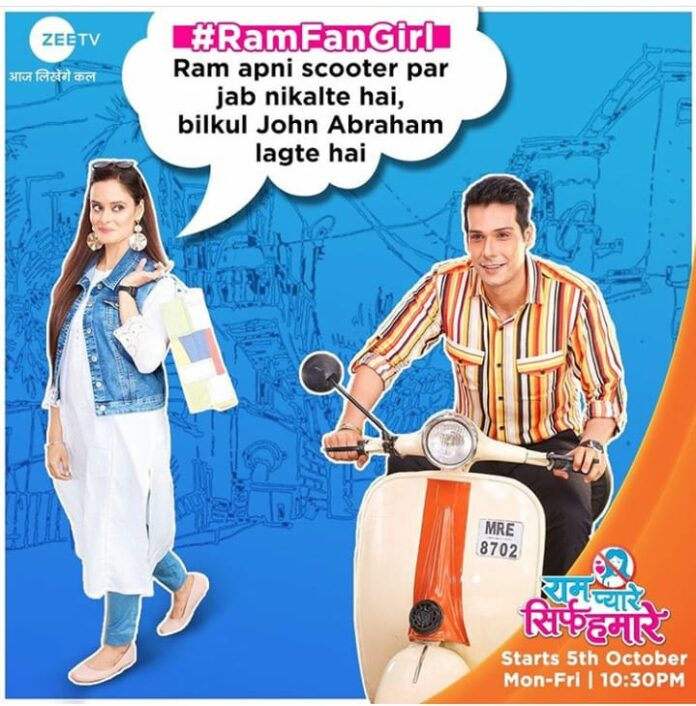 Ram Pyaare Sirf Hamare Upcoming Story, Spoilers, Latest Gossip, Future Story, Latest News and Upcoming Twist, on Justhowbiz.net
Episode starts with Ram holding Dulari protectively while Irfan interrrogate the neighbours about the Man and scolds them for making Dulari go through all that. Ram says he doesn't like Dulari's worried face and a guy handovers marriage card to Ram which was given by that man, Ram gets worried.
 Koyal commented that the man may have got attracted to Dulari by seeing her modern look while Ram defended Dulari and Radha imagines him as God Ram. Dulari gets happy Seeing Ram supporting her and says she is very fortunate to get him as her husband while Koyal also admires him.
 Ram says he will punish that man and patang agrees to him, Ram declaires that they will complain about that guy and police will help them and moves towards police station with Irfan, while cherry runs towards him and sended photo of that man to Ram.
Ram and Irfan reaches station and tells about the matter, Ram asks for police's help at that time he gets cherry's message and sees the photo of that man and was about to show it to the inspector when he himself gets shocked finding inspector to be the same Man.
 Inspector ask about the matter and takes Ram mobile while Ram snatches it from him but irfan says to show the photo to inspector but Ram says he don't want to complain. Irfan starts praising about inspector's bravery and shows him the wedding card asking him to beat the man but in return inspector punched him hard while Ram clearified Irfan that this inspector is the same man.
 Inspector says he will marry Dulari only and warns them while Ram says that Inspector is doing wrong and ask not to trouble his Dulari, inspector was about to punch ram but stopped addressing him as Dulari's husband and further says that he will marry Dulari within 48 hours, Ram faced him and says to stay away from Dulari and goes.
Dulari Ram patang and Irfan were worried about the matter while Dulari says he can't marry her without her permission and prays to god asking for help while Koyal comes to their house and was about to enter when Dulari stops her asking why is she here to which koyal replies that she wants to help Dulari from the goon cum inspector and comes inside, koyal suggests Dulari to leave the house for some days to get rid of inspector, Dulari agreed to it.
Inspector warns pandit to find a date as soon as possible while Koyal comes there addressing inspector as his brother, and tells him that he reminds her of her dead brother, she says that she will help him in his marriage to which Inspector asks her that what she wants in return?
 she says she wants to marry Ram and says something in his ears while he gets happy and promise her that he will make her wish come true, further she ties rakhi to him and does his aarti, she smirks and thinks that this inspector will help her to get Ram.