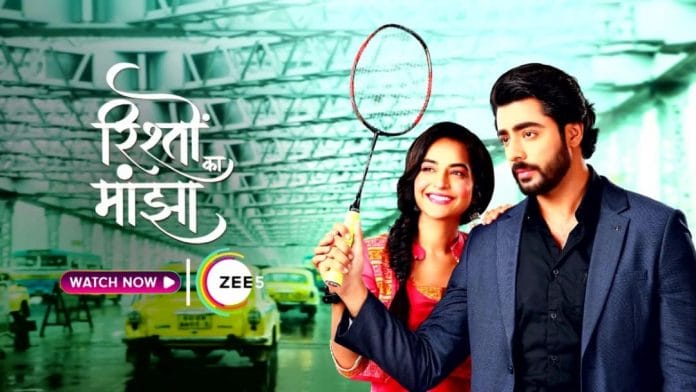 Rishton Ka Manjha Upcoming Story, Spoilers, Latest Gossip , Future Story, Latest News and Upcoming Twist on Justshowbiz.net
The episode starts with Agarwals attending Saraswati puja. Arjun gets a video, which states that the badminton association has lifted the ban from Arjun, and he can now play badminton again. This news makes everyone happy. Arjun gets overwhelmed, and says he can't believe that finally it's happening. Reporters come outside of the mansion. Diya tells Arjun those who blackened his face, now will congratulate him. He should face them. Arjun meets the reporters and expresses his joy. They give him a flower bouquet to congratulate him. Arjun gets flashes of his past when he faced humiliation.
Amitabh says Arjun's news has been spreading everywhere so fast, and Madhuri get happy hearing that. Diya makes Amitabh's favourite sweet dish. Arjun teases Diya for her eating habits. Madhuri tells him not to as Diya is already thin and moreover she is the reason of their happiness. Arjun says now Diya is her favourite daughter in law and she should not get emotional again and again. Luv comes downstairs and takes Amitabh's signature on power of attorney papers without his knowledge.
He gives the papers to Niharika, saying Amitabh didn't notice it carefully as he was in happy mood. Niharika smirks seeing that and says now she will prove that she is not a fool, but a cunning woman who took over the business from Agarwals. She will show everyone their real places. Diya comes to Arjun and says everything is sorted now, their family is now united. One thing is incomplete, that is Arjun playing the badminton again. She shows him the racket and tells him to start practicing with her. She wants his admirers to cheer for him like before. Arjun promises her he will again start practicing.
Next morning Arjun feels lazy and Diya wakes him up. She says she wants to play a match with him. Arjun says she will lose as he is better player than her. Diya challenges him saying she made him lose once in the last and she challenges him. She tells him to get ready. Dipika comes in and teases Diya for waking Arjun up. She advises Diya to share bed with Arjun as it's high time they should start living as husband and wife. Diya feels shy, and Dipika says she will do something to unite Arjun and Diya.
Diya and Arjun start playing badminton, and Arjun recalls Karan's words. Luv and Niharika notice them. Luv says he will first throw Diya and Arjun out of the house, as he hates them the most. Niharika agrees, and says she and Luv are now owners of everything. Luv says at first they have to focus on their business and should try to convince Mr Khurana anyhow, as he is the biggest investor. Niharika says she will put efforts to solve the matter.
Episode ends