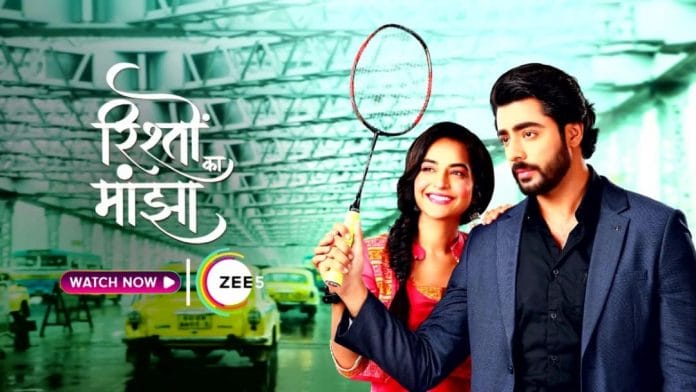 Rishton Ka Manjha Upcoming Story, Spoilers, Latest Gossip , Future Story, Latest News and Upcoming Twist on Justshowbiz.net
The episode starts with Amitabh denying that he didn't sign any power of attorney papers and he is not that careless that he will forget about such an important thing. Amitabh says something is wrong he will go to office to talk to Luv. Diya stops him saying he should wait for Luv to come back home. Amitabh gets restless and says he has three sons and why will he give the power of attorney to Luv only. Arjun asks him if Luv took his signature without his knowledge? Amitabh gets into thinking.
Niharika gets overjoyed seeing the official papers that she is now the fifty percent share holder of the Agarwal Industries. Luv congratulates her and says Khurana wants them to throw all the family members out of the house.
Niharika says she wants to see Arjun and Diya's reaction when they will throw them out. Luv asks her but what about Dipika and Kush. Niharika says except these two they will kick out everyone. She adds she will give chance to Kush for last time, if he doesn't support them then she will divorce him and will get him out of the house. She says Dipiks cooks really well and to manage the household chores they will need someone like her.
Amitabh calls Luv and questions him that when he talked about power of attorney to him? He can't remember any such conversation between them. Luv says Amitabh is blaming him unnecessarily when the latter himself signed the papers knowingly. He tells Amitabh to take retirement as he needs rest, he started forgetting things too. He says he will handle the business matter and Amitabh doesn't need to prove him a liar in front of his family. Amitabh shouts at Luv and Arjun tells him to calm down. Amitabh says there's something fishy as Luv never talked to him before in such a tone. Arjun senses something bad that a storm will come soon if Luv has changed. Dipika tells Banno to decorate Arjun's room. Dipika makes preparations for Arjun and Diya's first night.
Arjun comes with Diya and asks her what she is doing. Dipika asks about the official issue, Arjun hides the matter. She then tells him and Diya about their first night ritual. Arjun says they should not do this in this situation. Dipika tells him not to worry about business issues. Arjun asks Dipika about her equation with Luv nowadays. Dipika sadly reveals that Luv doesn't even talk to her, neither he shares anything with her. She also tells about the lady who called Luv that day. Parvati tells Diya and Arjun to go downstairs as Luv and Niharika have arrived.
Madhuri asks Niharika why she is coming back with Luv and where were they? Arjun asks Luv about the power of attorney papers, why Amitabh can't recall anything about that. Luv mocks Arjun saying the latter has no knowledge of business so he can't demand explanation from him. He asks Arjun to focus on badminton only. He will talk to Amitabh later. Amitabh comes and asks Luv whats going on. He says business is like his son and he can't forget anything related to that. He didn't lose his memory. Luv reminds him of the day he took his sign after his release from jail.
Amitabh checks the papers and gets shocked. He accuses Luv of fooling him. Luv says Amitabh should have read the papers thoroughly but he didn't. Madhuri says this is not true as Luv can't fool Amitabh like this. Arjun checks the papers and says Luv is telling the truth but why he did that. Niharika interferes and tells Luv to reveal the truth to everyone. Diya asks her how come she knows about the business papers. Niharika tells her to have patience as the truth will be revealed slowly.
Dipika asks Niharika to behave but the latter says they all will have to follow her orders from now. Luv says Amitabh was addicted to business and it was necessary for his one deserving son to take over the business some day thus he did it. He won't take orders of Amitabh whole life. Now everything belongs to him only as he has the power of attorney. Everyone gets shocked to hear that.
Episode ends