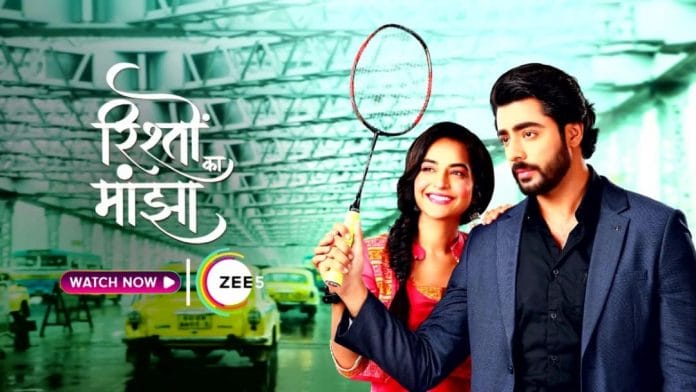 Rishton Ka Manjha Upcoming Story, Spoilers, Latest Gossip, Future Story, Latest News and Upcoming Twist on Justshowbiz.net
The episode starts with the coach telling Diya to run extra miles. He says she is weak in fitness category. Diya gets ready and goes to run. The coach informs Karan that he did what the latter told. Karan smiles. Diya thinks while running that Karan can't make her lose by his cheap tactics. She has stamina and she won't be impatient as Karan is testing her patience only. Arjun calls Biplab and the latter asks him why he called him at this time. He can get caught. Arjun turns back and his disguised look shocks Biplab. Biplab asks him what will he do. Arjun says he wants to be with Diya as Karan wont leave a chance to trouble her. A new sweeper will replace the old sweeper and Arjun will be the new sweeper. Biplab says but there's risk. Arjun says he is ready to take risk for Diya's good.
Madhuri worries for Arjun and can't sleep. Kush calms her down saying he is doing his unfinished work, she should not panic. Dipika gives her water and says if she keeps crying like that Arjun will scold them for not taking care of her. Niharika acts like she is worried for Madhuri and she tells Kush that Arjun might stay in a nearby hotel of the camp. He wants to stay close to Diya. Kush says she is correct maybe. Niharika says Karan knows Arjun is missing but if Arjun is staying in camp then that will be shocking for Karan. Niharika says she will inform Karan about it.
Diya finishes her run and comes back to coach. Coach says she looks tired means she needs to work on her fitness more. Diya says she is fine, she can run again. Coach tells her to start workout. Monica and her friends go for training and Monica says they are already very late. Warden tells Monica to meet Karan. Monica gets scared and Karan insults her for failing to stop Diya. He says Monica is eligible for this camp for her poor performance but she reached here because of him. Diya is stronger than her and she failed their plan too. Karan gives Monica last warning and tells her to leave. Karan gets a message that Arjun is staying near camp. He tells his staff that he will collect information about Arjun in nearby hotels and also he will tighten the security in camp. Karan says he wants Arjun to enter the camp then it will be easier for him to throw Diya out.
Arjun waits for Biplab and then he notices Diya from window. Diya gets harassed by the coach who stops her from drinking water. He tells her to start her workout without taking a break. Arjun again tells Biplab to hurry up as they are torturing Diya. Arjun says Diya won't give up hope easily. Luv asks Dipika where is Arjun as he shares everything with her. Dipika says she has no idea. Luv taunts her saying Arjun is giving attention to Diya not to her. He says Arjun should not create problem by fighting with Karan again else they will again face issues in business. Amitabh is also worried. Kush hears that and tells them that Arjun messaged him. Dipika goes to inform Madhuri. Kush asks Luv why behaves rudely with Dipika. Luv tells him to mind his own business.
Tina gets ready for charity event and Niharika comes to her. She pleads before her to forgive her. Tina says she is not angry with her but she had moved on. Tina starts her acting that she won't get anything by holding grudge against Diya so she accepted her. Niharika should do the same. Niharika gets shocked hearing that. She asks her if she is still angry. She thinks she can't accept Diya. Tina thanks her for supporting her always. Niharika informs her about Arjun staying near the camp. Tina says she is feeling bad for Madhuri. She thinks this information will benefit her but she won't ruin her plan due to Niharika's stupidity. She made a full proof plan this time. Arjun stares at Diya and says she should be strong.
Episode ends