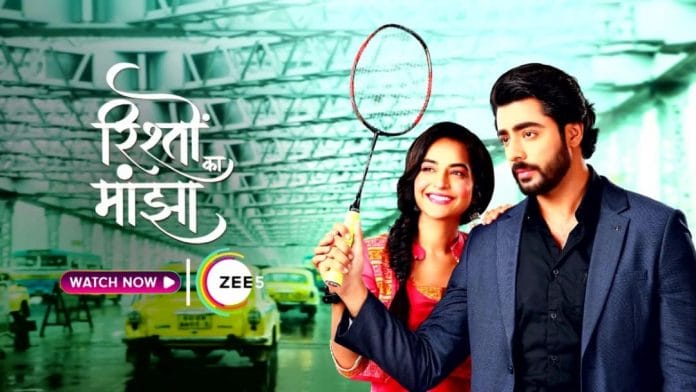 Rishton Ka Manjha Upcoming Story, Spoilers, Latest Gossip , Future Story, Latest News and Upcoming Twist on Justshowbiz.net
The episode starts with Niharika requesting Madhuri to give her some jewels. Madhuri permits her and Pihu gets irked. Madhuri tells Pihu to get ready and Pihu notices where Madhuri is keeping the locker keys. She says that no one will get to know that she stole something. Arjun gets Radu's call and the latter asks him how can Diya lose the match. It was indeed a shocking news. Radu informs him that Karan learned about some missing papers from the information room. Did Arjun take it? Arjun says he doesn't want to get involved in badminton after Diya's betrayal. He thanks Radu for everything he did for him. Arjun wonders where are the papers, as Diya didn't talk about it in past few days. Pihu wears the necklace and praises her own beauty. She thinks of stealing money. Karan tells Amitabh about the missing papers and says Arjun must have taken them. Amitabh says that's not possible as Arjun didn't expose Karan yet. Karan tells him to be alert as Arjun might learn the truth. Amitabh replies Arjun is upset with Diya and he won't take any step now.
Arjun taunts Pihu for her greedy nature, but she covers it up saying Madhuri gave her all the jewels for Puja. She tells Arjun to take rest. He says greed is visible in her eyes. Arjun asks Pihu about the case papers. Pihu gets confused as she has no idea about it. Amitabh asks Karan why he attacked Arjun again, just because of her doubt. Karan denies and says someone else is behind this, not him. He suggests Amitabh to find the papers else they will land in trouble. Arjun questions Pihu about the papers as she can't stop him from knowing the truth. He asks whether she burnt it or tore it. Pihu thinks, which papers he is talking about. She then makes excuse, she burnt the papers to keep him away from badminton. Arjun gets angry and says she can't get his sympathy and nothing will be find between them and he hates her to the core. He leaves.
Diya asks if anyone is there. She says she is hungry and can't control her hunger. She adds if she falls sick, then they will be in trouble. Tina's men gets scared and go to take food for her. Pihu calls up Tina and says that Arjun was asking her about some papers and she has no clue. Tina also get surprised knowing about the papers. Pihu grows tensed thinking Arjun can even kill her in anger and no one will come to save her. So it's better if she leaves the house with all the jewels without anyone's knowledge. She leaves the room. Diya misses Arjun and tries to gather strength to fight the situation.
Pihu walks on street at late night and gets inside someone's car. She shows the jewels to the person and tells him to make duplicate ones asap. He agrees and she smirks saying if she gets caught, everyone will misunderstand Diya, not her.
Precap- Kush asks Pihu where did she go? She says she was unable to sleep so she is walking. Arjun says her true colors will get exposed soon which shocks Pihu.