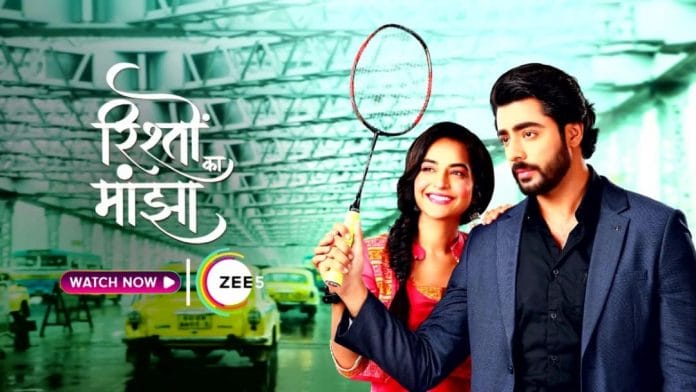 Rishton Ka Manjha Upcoming Story, Spoilers, Latest Gossip , Future Story, Latest News and Upcoming Twist on Justshowbiz.net
The episode starts with Luv and Niharika talking to Tarun. Tarun convinces them for the deal saying there are three joint owners of the land. Owner's mother and her two sons. Tarun lies that there is no fault in the papers. Mr Lahiri also approved that. Luv gets happy. Diya thanks Tarun for his help and says now noone can stop them from succeeding in the plan. Diya says now Maduri and Dipika will disguise themselves as owner's mother and her son. Madhuri says she is really nervous to which Diya says she can do it. Arjun says Diya and Dipika will have to change their style of walking.
Niharika and Luv reach the location to see the land and Luv likes the place. He says Niharika did a great job. Niharika says she has knowledge of business too. Luv praises her. Arjun arrives as Anant and Niharika tells Luv to ignore his nonsense talk. Anant teases Niharika and Luv says he wants to meet the owners right now. He doesn't have time. Arjun tells him to calm down saying they can have tea together until the owners come. Luv says he is not interested. Arjun calls Diya but she doesnt pick up. He gets worried and then Diya arrives with Madhuri and Dipika in a car.
Arjun welcomes them and introduces Luv and Niharika to them. Madhuri covers her face with veil. Diya talks to them as per her plan. She says Madhuri is Rajasthani so she likes to cover her head always. She says they live in London and came here specially on Anant's request to strike the deal. Niharika asks Madhuri and Dipika to tell their opinion. Diya says Dipika and Madhuri are the joint owners but they don't talk much. They just give their approval. She only takes decisions regarding the deals. Madhuri recalls Luv and Niharika's ill behaviour towards their family. She feels disgusted. Luv asks Diya about her expectations. She refuses to strike the deal saying she wont give the land to them for 300 crores. She needs more as the land value will be doubled up after 5 years.
Diya creates a pressure on Luv saying she will meet some other dealer. Arjun tells Luv to not leave the golden opportunity. Niharika also pushes Luv to agree. Diya says she wants 600 crores for the land. Luv gets shocked hearing that and then he gives his consent finally. Diya demands fifty percent of the money by tomorrow. He says he needs one week time to give her 300 crores. Diya says she doesnt have time. Arjun again pushes Luv to say yes. Diya says Niharika is more intelligent than Luv. Luv agrees and Diya gets happy. They leave. Luv tells Niharika that she didn't do right by forcing him to sign the deal. They have to gather information about the owner. Arjun congratulates Luv and Niharika.
Episode ends