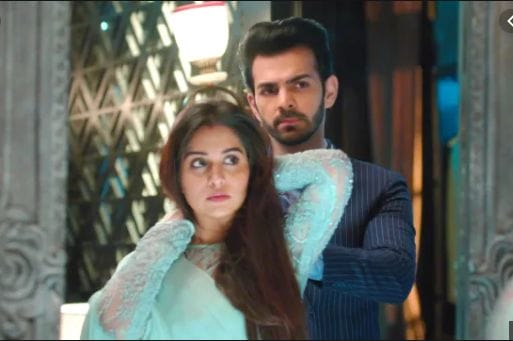 Suspense is always high in popular show Kahaan Hum Kahaan Tum. After 26th September mystery is solved in the show with Raima's entry, shows fan are again curious to know the secret behind Rani who entered the house, as Pooja's mother. Well, in the recent episodes Rani's mystery is revealed and Nishi discloses that she is alcoholic and went to jail for several times because of it. Rani's truth shocks Sonakshi and Pooja. Pooja refuses to believe Nishi and decides to cross-check Rani.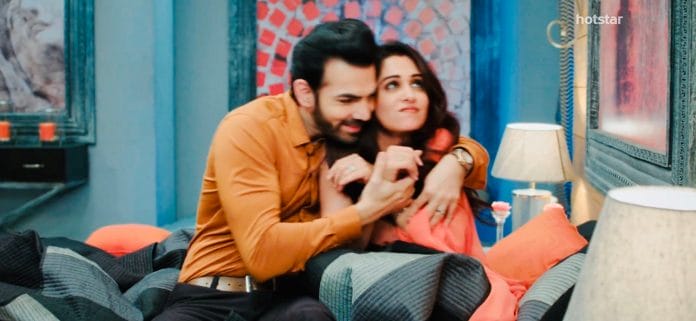 Sonakshi after hearing Rani's truth re-thinks if Rohit was right and she did big mistake by uniting Pooja with Rani. She waits for Rohit and suddenly dreams of patching up with Rohit. Back to reality; Rohit calls out Sonakshi's name and the duo shares an eye-lock after Rohit falls on Sonakshi. Afterwards, Sonakshi confronts Rohit and ask him if Nishi was right and Rani is alcoholic thus he was not letting Pooja meet her. Rohit replies to Sonakshi that she is quite late for doing any question and answer.
There, Naren forces Sonakshi to quit her job and sit at home, as he don't like her doing romantic scene on-screen. He gives Sonakshi two option and ask her either quit her work or don't talk with him.
Sonakshi and Rohit are already sharing differences and now how Rohit will respond to Naren's condition will be interesting to watch. But before that Rohit has given an awwful speech on the occasion of Nishi and YK's wedding anniversary that left Sonakshi teary.
Rohit in his speech tells about what is marriage and what he expects from his marriage. He says "Shaadi bahut hi azeeb rishta hai, karna asaan hai nibhana sabke bas ki baat nai hai. Ek itna Koobsorat sa rishta jismein Mai aur Tum ek Hum mei tabdil ho jaatein hai. U know adjustment hai, compromise, sacrifice hai, dher saara pyaar hai, bharosa hai aur thoda ghum bhi hai-it's not ol a bed of roses. Lekin shayad hi koi rishta hai jo do logon ko itni geharai se jodhta hai, ek karta hai. Balance ka bahut bada haath hai, arguments bahut hoti hai, har baat pe behas hoti hai. Jitni behas hoti hai khamoshi bhi utni hi jaruri hai. Ek dusare ke unkahe lafzon ko sunne ki takat iss rishtey ki buniyaad hai". After mentioning how ego should be kept aside in the marriage relationship, in the last Rohit ends up his speech saying like YK and Nishi has handled their ego carefully he too wants his and Sonakshi's marriage to be same like them. Sonakshi after hearing Rohit's word stands shocked and stunned.
Well, Rohit's speech from today's episode was like by many shows fan but some defended him saying it was a taunt for Sonakshi. Fans under the hastag #KahaanHumKahaanTum poured their tweets on Rohit's today's tweet. Check it out below.
Can we please stop for a minute here? Rohit's speech today was… Problematic at best. I mean… Almost every word of it was like a taunt to Sona. And for what? What? Just because she feels Pooja has the right to get to know her birth mom? Really? +#KahaanHumKahaanTum | #KHKT

— 𝚙. (@irritatu) December 25, 2019
People enter a relationship with different expectations & those expectations evolve as you grow in the relationship.
Rohit isn't right bt Sona isn't perfect either.These two have miles to go in this relationship & that's what will make this journey worth it!#KahaanHumKahaanTum

— Dil hai toota, toote hain hum!💔 (@Thestarrynigh19) December 25, 2019
Thats why I liked Rohit's speech today. He never for once said he was right, instead pointed out that everything shud work in a balance! Thats how marriage works. Balancing ur expectations with the reality! #KahaanHumKahaanTum

— Gowri (@Gowri07423450) December 25, 2019
Rohit's speech was not a taunt at Sonakshi, it was him expressing his feelings so she can understand how a marriage should be. Sonakshi is the one who screwed up, not Rohit. Rohit wants them to be united, Sonakshi went solo. How is he wrong? #KahaanHumKahaanTum

— Multifandom (@multifandomme) December 25, 2019
Share your views on Rohit's speech and tell us how much excited you all are for the upcoming as Ronakshi will patch up soon in the show.
Keep visiting us to know what more will happen in your favorite show Kahaan Hum Kahaan Tum next!