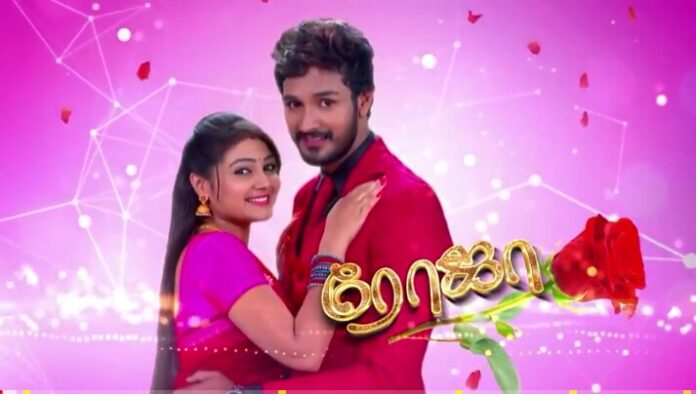 Roja Upcoming Story, Spoilers, Latest Gossip, Future Story, Latest News and Upcoming Twist, on Justhowbiz.net
Today episode starts with Aswin saying to all that he is ready to give three company to Anu name but he can't able to give company to her in life. Arjun says to Annapoorna if Aswin is not ready to marry Anu then she can't able to be a chair person of our company. Legally Roja is the one has all rights to do it.
Pratap says to them he feels Arjun words are correct. Company partners questions Roja in english she hesitate to reply. So they says to Arjun she is unfit for this position. Arjun narrates the importance of Tamil and explain to them learning language is not brilliance. Roja says few words to them in Tamil and make them realise their mistakes.
Anu tease her by saying they need English not Tamil. Roja question her if she can say 100 words without A, B, c, d. Anu and partners blinks and says to her no words is there. Roja starts counting 1,2 3 till 99. They applause her and accept her intelligent. After they leave Annapoorna says to Pratap she don't have double degree to do it. Arjun says to her he will make her study.
 Annapoorna mocks his decision and challenge him if he can do this or else kick her out of the house. Arjun accept her challenge and puts an condition back if Roja passed out in exam then Annapoorna wanna kick Anu out of the house. Annapoorna hesitate to do it. Aswin force her to accept the decision of him. Annapoorna says to him it won't happen this Roja can't able to do anything properly. Arjun strongly says to her she will turn to be a IAS officer Annapoorna gonna open the door for her.
Arjun ask Roja to study she refuse to do it by saying she is really happy with this life. She don't wanna hurt anyone there. Kalpana ask her to study as per his wish. Pratap first take his words as a joke then turns to seriously and question him how can she complete the exam? Degree is three years course and IAS she wanna work hard for this. Arjun says to him if we work hard then we will get its result. Roja deny it.
Pratap make her understand that Annapoorna didn't allow kalpana to do anything but here Roja got Kalpana as her mother in law she is supporting her a lot and encouraging her why don't she listen to her. Roja hesitate. Aswin comes there and make her understand that Arjun wanna see Annapoorna respecting her and win in this challenge so don't disappoint him. Roja agree to study.
Sakshi waiting for Anu her friend Divya joins with her. Anu reach their place. Sakshi informs to her that Shenbagam is in unconscious state if she wakes up it will be danger for her. She will loss her position in her house. Anu replies to her that Annapoorna the one pampering hera lot if she comes to know the truth then she will be the one gonna throw her out first.
 Sakshi advise her to kill Shenbagam however her family is believing she was died. Anu stops her and says to her if she is not Shenbagam then we can bribe her and let her play for game. Divya praise her idea. Sakshi informs to her that she gonna to Foreign till her return Divya will accompany her by saying she leaves.
Pooja mom, Dad and Bujji is gettting ready to go to school for meeting. Pooja bids bye to them. Aswin comes there and locked the door behind. Pooja ask him to go but he deny it. She says to him that spending time alone without parents knowledge ie wrong. He says to her that she is his wife so he has all rights to do it. Both spends some quality times each other. Bujji forget his id card so her parents return to home. Pooja hides Aswin in her room but Bujji notice him. He pleads to him to don't share this incident to his parents. He nods and leaves. Pooja takes breath in relief.
Aswin bring books for Roja who is busy in stiching hook in her blouse. He ask her to study hereafter instead of doing household works. Roja says to him that its her duty to do it. He clears to her that her entrance exam coming 10 so prepare well mom will manage all alone. Roja feels pity for her Kalpana hearing her conversation with him. But Arjun making fun of Kalpana.
Manickam reach the hospital to see Shenbagam. Anu and Divya gets shock to see Manickam in hospital.
Episode end