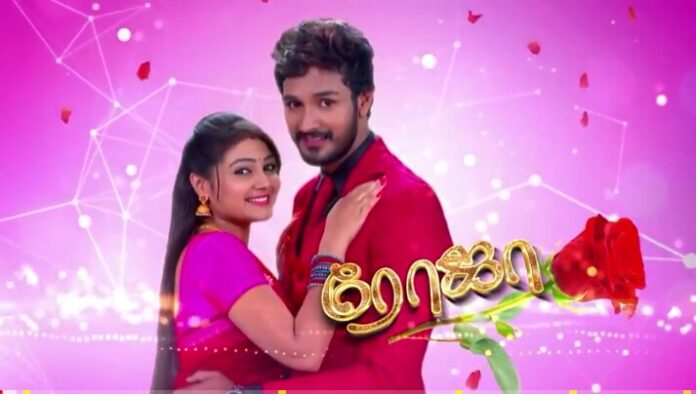 Roja Upcoming Story, Spoilers, Latest Gossip, Future Story, Latest News and Upcoming Twist, on Justhowbiz.net
Today episode starts with Pratap says to Arjun lets go to guest house first then shift to another house. Annapoorna stop them and says she only ask Roja to leave not them. Aswin replies to her that Arjun leaving for Roja. He is for Arjun. Mom for him and Pratap for his wife. No one force them to leave but they are willing to leave because its true love.
Annapoorna can't able to understand this ever because she is staying with the fake people whom doesn't even know to show the love. Arjun says to Annapoorna she never tries to understand Roja at all. Annapoorna replies what did she did wrong she is doing this all for everyone good but none understanding her.
Arjun says she is good by heart but her surrounding is bad. This Anu whom doesn't belong to this house living here. Anu shocks to hear this. Arjun smirks and says to her don't worry soon he will prove everything. Then he point Balu whom waiting for Annapoorna death news to take over this money and Yasodha living with his mom these many years though she didn't learn to respect her husband yet. He ask her to be careful with them and warn her to lock the door while sleeping orelse they will put stone on her head to kill her.
 Annapoorna shocks to hear it. Aswin added that none supporting her but Roja because she earned everyone respect from this house from her true love. For her innocense we are supporting her unlike some people who are with Annapoorna for money. Annapoorna thinks its her fate to listen his advise in this age. Anu thinks its not good to send them out because she wanna keep an eye on them. Anu provoke Annapoorna to call them in.
Annapoorna ask them to come in. Aswin ask to her didn't she asked Roja to leave so ask her to come in first orelse they won't come. Annapoorna says to Roja doesn't she mentioning her as grandma so come in or she wanna see her falling on her feet. Roja falls on her feet and says don't say like that she is elder in this house everyone must respect her. She ask everyone to enter in. Anu complaints to Annapoorna its too much talking to her nicely. Annapoorna replies to her that Kalpana is a egoist if she go out she won't come back. Don't worry she won't allow Roja to stay here long.
In Aswin room Nurse checking her. Annapoorna ask to Kalpana why did Nurse came here? She replies to her that doctor send this nurse to  normal check up to Aswin. Nurse ask to Kalpana whom gonna stay with Aswin because she wanna inform about the tablet details to her. Before Kalpana saying Roja name Annapoorna mentioned Anu name and said said she gonna marry Anu. She will take care of him. Roja said she worked in hospital so she will help him.
Kalpana too support this.  Annapoorna replies to her that Roja will run away from him if Arjun calls. Annapoorna ask Anu to go there. Aswin stops her and said he don't need her help at all. If she gives medicine he won't eat. Annapoorna says to him don't say like that she is doing this all for him. Aswin strictly says to her he don't wanna see her. Kapana says that Aswin don't like Anu so don't force him.
Annapoorna advise to Kalpana that Anu gonna marry him if she helps him he will change his mind. Its  not like Aswin don't like Anu if he think like that why did he agreed to marry her. Aswin shouts on grandy and said he don't like her at all. If she gives medicine to him he won't eat it. Her breath enough to kill him. Arjun and Roja smiles hearing it. Anu glare them. If anyone force him he will leave this house without informing to anyone. He threw away the medicine and shouts in high pitch.
Nurse checked his BP and informs to them that his BP was normal when she checked him first but now its 180 so high if he react like this it will be danger to his live. So don't send Anu near her Kalpana agree to it. Annapoorna deny it but Nurse said if his BP got high again then she will inform to doctor then he will admit him in hospital. She ask Roja to listen everything. Anu glared them and leaves. Roja clearing her doubts with Nurse. Anu evesdropping their conversation.
Roja taking care of him everyday Anu keep watching them and cursing Roja. Roja treating him like a kid and help in walking and taking medicine, Food on time. Its irked Anu a lot she couldn't forget the insult Aswin done to her. She decides to stop going behind him and wish to kill him to take revenge on Roja. She remembered the nurse advise don't add salt and Chilly in his food it will activate the poison inside him. Anu mixed salt in his juice.