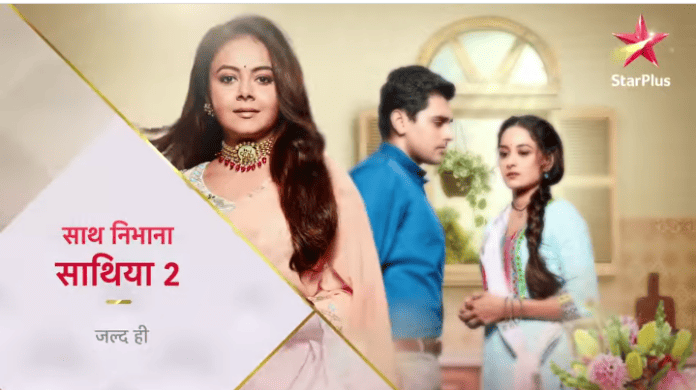 Saath Nibhaana Saathiya Upcoming Story, Spoilers, Latest Gossip , Future Story, Latest News and Upcoming Twist, on Justhowbiz.net

Episode begins with Gopi helps Gehna which has been noticed by Hema and she informs that to Kanak. Pankaj and Chetan tries to know how much amount their father going to get for his retirement. Before Praful says anything his wife asks about Kokila. Chetan asks who is Kokila.
Praful says she is his sister and she is coming with her family to attend the party.He gets call from bank and informs his family that cheque amount is surprise. His sons leaves from there. He tells his wife Jamuna that he is thinking to give some money to Gehna too. She says he is right, Gehna is like their daughter and she is also treating them with love and respect so she has rights on that money definitely. Gehna identifies Gopi and takes blessing from her. Kokila comes there with Urmila and Hetal. Gehna takes blessings from everyone. Kokila asks how she knows about them.
Gehna says Praful told about them. Gopi asks her what she is doing standing here with these two bucket waters. Gehna hesitates to reply. Hema asks Kanak what if Gehna told the truth to them. Kanak says she won't do and leaves from there. Hema was about to welcome Kokila's family but Kanak stops her saying she will do and welcomes them. Kokila asks Kanak to welcome Gehna too. Hema says she is not a guest. Praful says Gehna is their family member but Kokila was adamant that Kanak should welcome Gehna too. Kanak welcomes Gehna without any choice.
Later Praful introduces his family to Kokila and says his another son Anant is not here but he will come to the party directly. Then Kokila introduces her family to them. Gopi cuts cake to celebrate Ahem's birthday and recalls the moments she shared with him. Kanak tells Gehna to leave from there. Kokila consoles the crying Gopi. Gopi searches Gehna to give cake to her. Jamuna says she would have went to outhouse. Gopi moves towards the outhouse to give the cake to Gehna. Kanak tells Hema that Gopi and Kokila interfering too much in their family matters especially in Gehna.
Hema says Kanak is right and Kokila even made her to welcome Gehna and now this Gopi went to give cake also and asks what they can do now. Gopi enters the outhouse and searches Gehna there. She shocks seeing Ahem there and he eats cake from her hand. Kokila comes there and sees Gopi standing there alone and asks why she seems tensed. Gopi says she saw a person who looked like her Ahem in fact it's her Ahem only.
Kokila says she would have dream about him. Gopi says he even took a bite from the cake and shows the cake piece to her. Kokila asks her to not give hope because she can't handle if again her hope break then. She gets emotional thinking about Ahem. Gopi comes to reality when Kokila says Gehna is not here and asks her who ate the cake. Gopi stays silent thinking what to tell her.
Episode ends.
Precap – Gopi helps Gehna to get ready. Later Kanak insults Gehna by comparing her with trash.