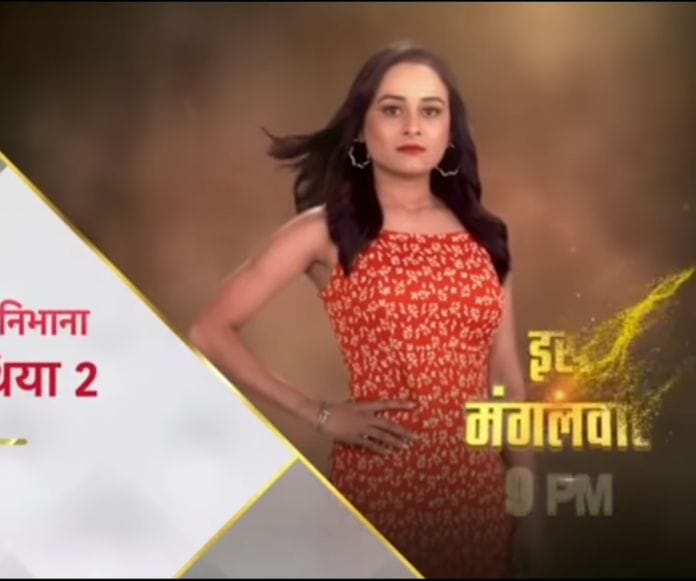 Saath Nibhana Saathiya 2 Upcoming Story, Spoilers, Latest Gossip, Future Story, Latest News and Upcoming Twist, on Justhowbiz.net

Episode begins with Gehna tells Surya to take medicine first then he can romance. He takes his medicine and dances with her ( Jo tu mera humdard hai song plays in the background ). He asks her to not move saying that she is looking perfect in that angle. She gets confused hearing him. He takes his camera and clicks her pictures ( Title song plays in the background ).
She sees those pictures and says that they looks incomplete. She clicks their picture and says that now it looks complete. He tells shayari to her. And tells her that what all he want to do with her. She tells him that tomorrow she will take him out for drive but he should take care of himself. He tells her that, that's her job. She makes him lay down on the bed and asks him to take rest.
On the other hand, Suhani asks Police inspector that how Gehna got bail. He tells her about lawyer. She asks him that why he didn't reject the bail. He tells her about the video proof which have been submitted and disconnects the call. She sees Gehna. They taunts each other. Suhani goes upstairs. Gehna searches a note near Viru's picture but finds nothing. She wonders that who put that note there.
Suhani tells herself that she won't let Gehna win against her. She finds a note in her slipper and reads it. She learns that someone want to help Gehna and asks her to meet at temple. She wonders that who want to help Gehna. She tears a note and throws it in the dustbin. She goes to the kitchen to get water. Gehna finds a pieces of note from Suhani's room and collects it and leaves the room.
After some time, Surya murmurs Gehna's name in sleep. Gehna hears him and sits beside him for some time. She covers him with blanket and moves from there. She drops one piece of note near him. She reads the message and wonders that who want to help her. Meanwhile, Suhani could not sleep thinking that who want to help Gehna.
Next day, Surya asks about Dada and Dadi. Gehna tells him that they left for temple. She asks him to join office because now Sikandar and Arjun are not here. Suhani says that Surya need to take rest now. Surya tells her that it's his responsibility to handle their business. She tells him that if he decided then she won't say anything.
Later, Suhani tells Sarika that Gehna sending Surya to office so he learns about their illegal business. Sarika tells her that Surya should not join office. Suhani asks her to do something to stop Surya and leaves from there.
On the other hand, Gehna helps Surya to get ready. He tells her that he is nervous. She tells him that he can handle everything. He tells her about investor's meeting and asks her to join him. She thinks that she has to visit temple.
Episode ends.
Precap – Sarika forces Surya to eat sugar and curd because it's his first day at office. Gehna gets shocked seeing that.
Click to read
Saath Nibhana Saathiya 2 5th May 2022 Written Update: Shreya informs the truth to Gehna