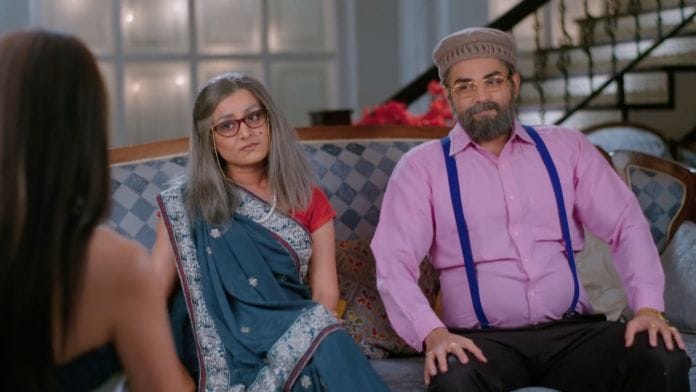 Saath Nibhana Saathiya 2 Spoilers, Upcoming Story, Latest Gossip , Future Story, Latest News and Upcoming Twist on justshowbizz.net
Star Plus' popular show Saath Nibhana Saathiya 2 is gaining popularity ever since Gehna and Anant have started feeling for each other. Anant is yet to realise his love for Gehna but for viewers it's easily visible. With lots of twists and turns coming, with Kanak becoming the owner of the Desai mansion and making others her slave. It will be interesting to watch how Gehna and Anant sustain Kanak's evil plans against them. Soon, Gehna and Anant will be seen executing their plan to fight against Kanak, watching that will surely be interesting.
In the current track, Anant and Gehna go to talk to their friend Jagdish while Kanak questions where are Anant and Gehna. Paresh lies that they went to bring Vegetables. When Anant and Gehna return, Kanak catches that they are lying so she gives them punishment. Paresh joins he couple in their plan. Kanak goes to Jagdish's office so Anant sneaks out and gets ready as a businessman. Kanak looks at him and demands to see the construction. Anant takes Kanak to the construction site and Kanak finalises the deal but asks for the amount fully on cash. Here, Jigna questions about not seeing Anant anywhere so Gehna lies about Anant doing some work. Jigna doubts and goes there but finds Anant there. Kanak comes back and announces she is for sure sealing the deal to sell the house. Everyone requests her not to do that and blames Gehna. Later, Kanak becomes sad that even with the property the Desai's are not supporting her. Jigna consoles her. Kanak arranges for a party and asks the Desais to be waiters in that. Anant tries to rebuke but he fails. One of the guests insult Paresh so Kanak slaps the guest but later feels why she got angry if someone insulted Desais. Kanak on anger throws alcohol on Gehna's face and goes. Anant scolds Gehna for not being able to stand up for her own. Hema listens to their conversation and gets to know about their plan to take the house back. Kanak sees the papers and money. She asks Chetan to count the money. Gehna who is dressed as Mrs. Irani asks Paresh to count. He does and confirms the amount. Kanak signs the paper. Kanak dreams of living a luxurious life. Here, Hema is unable to find Anant and Gehna. Later, Kanak hears aarti being done and she comes down to order everyone to stop it. Gehna reveals how Jamuna and Praful are the owner of the house. Kanak is shocked that she got fooled. Hema comes and says to Kanak, she warned her but she didn't listen.
In the upcoming episodes, Kanak will be disappointed to lose and she will come to Desai's with Radhika.
Will Gehna be able to save Desai from Kanak's evil plan? How will Kanak be defeated? What will be Kanak upto next?