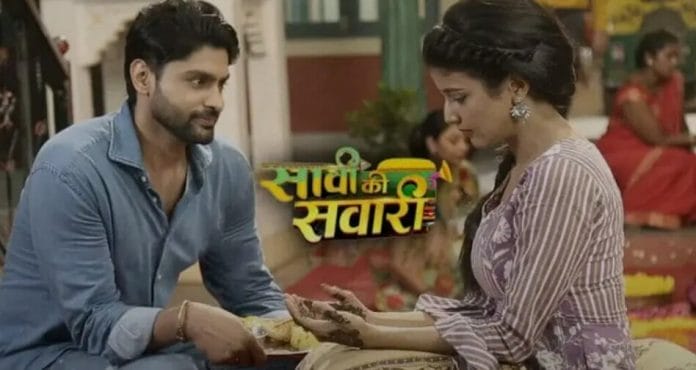 3 months later
Saavi Ki Savaari Upcoming Story, Spoilers, Latest Gossip, Future Story, Latest News and Upcoming Twist, on Justshowbiz.net
Episode begins with Thasvi says that baby will be like Nityam. Ananya says that baby will be like Saavi. They fights with each other. Vedika asks them to stop it. She says that baby will be like both Nityam and Saavi.
1 month later
In the kitchen, Nityam asks Saavi that why she is working in the kitchen alone. Saavi tells him that she was getting bored. He asks her that if she wants to witness fun. He screams that why Saavi is working alone in the kitchen. Dalmias comes there and starts working there.
1 month later
Saavi and Nityam argues that which photo they will hang on the wall. Vedika asks them to stop it. She hangs Nityam and Saavi's photo on the wall. She says that baby should be like SaiYam. Saavi tells her that the latter is right. Sonam looks at photo and says cute.
2 months later
Nityam tells Vedika to keep quiet. He says that Saavi will follow his instructions because it's 3vs1. He makes Saavi do exercise. Nutan comes there and asks Vedika that what happened. Vedika tells her that Ananya and Thasvi are in Nityam's team. Nutan, Raksham and Sonam joins Vedika's team. Vedika says that Saavi will clean the house and that's good for Saavi and baby. Nityam argues with her. Saavi says that she won't do anything. Nutan convinces her daughter to do both.
1 month later
Saavi tells Nityam that they will tell angel and mahakaal stories to their baby. Nityam nods at her. She cries seeing baby dress. He gets panicked and asks her that what happened. She tells him that soon small baby will come in their life. He nods at her.
Meanwhile, Sonam keeps pillow in her stomach and kooks at mirror. Raksham comes there. She asks him that if he really don't want to become a father. He tells her that he don't want it when mother is like her. She says that she want to become a mother. He tells her that her dream won't get fulfilled. She asks him that why she can't give heir to Dalmias when Saavi can give heir to Dalmias. He tells her that she stooped so low, so she can't match Saavi and leaves from there. She destroys the pillow.
Nutan brings sweater for baby. She tells Vedika that she stitched it. Vedika keeps the sweater in front of God idol. She says that they should do Saavi's baby shower ceremony. Nutan tells her that she also came to talk about this. Sonam overhears their conversation. She thinks that they can celebrate it one last time. She burns the sweater.
Vedika asks Saavi to take rest and not take stress. She tells Nityam to take care of Saavi. Nutan and Vedika notices that sweater had been burnt. Nutan tells Vedika that it's inauspicious. Vedika tells her that nothing will happen. Sonam tells herself that this is just a beginning. She calls someone to kill a person.
Episode ends.
Precap – One man keeps a knife on Saavi's neck on her baby shower ceremony.
Click to read
Saavi Ki Savaari 12th September 2023 Written Update: