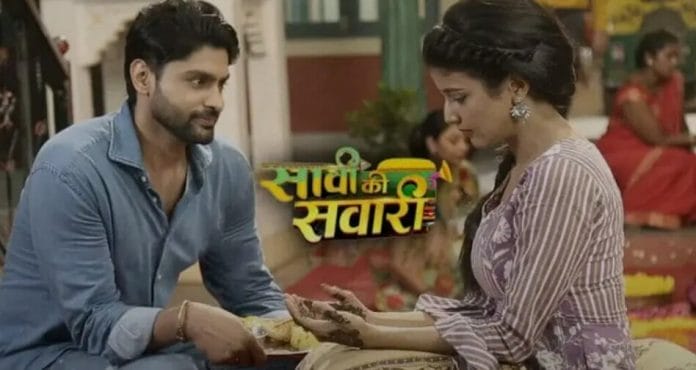 Saavi Ki Savaari Upcoming Story, Spoilers, Latest Gossip, Future Story, Latest News and Upcoming Twist, on Justshowbiz.net
Episode begins with Nutan tells Ratna that something was wrong in her upbringing that's why Sonam became like this. Ratna tells Nutan that it's Sonam's mistake. Nutan tells her that she is missing Sonam's father so much because when he was alive Sonam was not like this. She says that a mother can't fill father's place in children life and cries.
Ananya gives outfit to Brijesh. She tells him to wear it for Saavi's baby shower ceremony. Ratna tells Brijesh to console Nutan because Nutan is missing her husband. Brijesh tells Nutan that God will give happiness to Sonam too like God gave happiness to Saavi. Ratna tells Nutan that today is special day for Saavi so the latter should be happy. Ananya asks Nutan to smile. Nutan smiles. Brijesh tells her that she is looking good while smiling.
On the other hand, Vedika gives family necklace to Saavi. She tells her that Uma devi gave this necklace to her when she was pregnant. She asks her to get ready and come downstairs. Sonam sees this. Nityam asks Saavi that if he will forget her after giving birth to baby. Saavi tells him that she should ask him that question.
Bhura meets a goon and tells him to kill a person. Meanwhile, Sonam tells herself that Bhura did not call her yet. Saavi comes there. She notices Bhura's call on Sonam's phone. She asks Sonam that why Bhura is calling the latter. Sonam lies to her that maybe Bhura is calling her for money. Saavi asks Sonam that if the latter is hiding anything. Sonam shook her head. Saavi tells her that she hope the latter is not planning to harm the family and leaves from there. Sonam picks Bhura's video call and tells him that Saavi was there. Bhura shows a goon to her so she could recognize him.
Devraj, Himesh and Nityam talks to Shivam's photo. Thasvi comes there and tells Nityam that guests has been arrived. Sonam goes to goon who comes there wearing saree. Nityam gets mesmerized seeing Saavi. Goyal family comes there. Saavi's baby shower ceremony begins. Elders performs the ritual. Thasvi says that it's time for her and Ananya's dance performance. She and Ananya dances. Everyone joins them.
Goon keeps a gun on Saavi's neck. Everyone gets worried seeing this. Goon warns them to not move. He orders Saavi to remove all the jewels. Sonam recalls that how she told goon to push Saavi and act like theif. Nityam makes goon drops the knife. Saavi goes to Nutan. Goon takes the knife and says he won't go without finishing his work. He throws the knife towards Sonam. Saavi comes in between them to save Sonam. Nityam runs to Saavi.
Episode ends.
Precap  – Raksham reveals that Sonam is behind the attack. Nityam tells Sonam that he will forget Sonam is Saavi's sister if anything happened to Saavi and baby then. Doctor tells him that Saavi gave birth to baby girl.
Click to read
Saavi Ki Savaari 13th September 2023 Written Update: