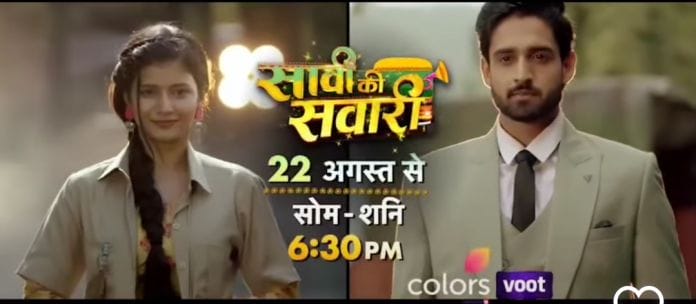 Saavi Ki Savaari Upcoming Story, Spoilers, Latest Gossip, Future Story, Latest News and Upcoming Twist, on Justhowbiz.net
Episode begins with Nityam thanks Saavi for everything. Saavi tells him that fine. He gets surprised hearing her. And he takes everyone's blessings. He says that he is hungry because no one made breakfast in Dalmia house. Nutan says that she will make pakoda. Nityam goes to wash his hands. Saavi follows him. She helps him to wash his hands. She falls down. He tries to help her and she refuses to accept his help. She struggles to get up. He tells her that he did not leave yet. She asks him that if he would have helped stranger too. He nods at her and helps her. Rishikesh sees that and wonders that what's happening between them.
Raksham comes downstairs. Nutan thanks Raksham for admitting Sonam in the hospital. Saavi tells Raksham to give tea to Sonam. She reveals that Raksham and Sonam studied in the same college. Raksham goes upstairs. Nityam is about to drink his tea. Saavi checks that the tea has too much sugar or not. She says that it's sweet. He drinks the tea. She goes to make another tea for Nityam. Rishikesh taunts Saavi for making tea for Nityam. He throws the tea away. Saavi tells him that he won't understand the relationship she share with Nityam. Nityam comes there. Rishikesh talks about office incident. Nityam tells Saavi that he don't want tea.
Vedika asks Nutan to talk to her. Nutan tells her that Saavi and Nityam do things for each other but that's not matter. She says that Nityam did not realise his feelings for Saavi yet. Vedika tells her that they have hope still. Nutan tells her that they signed on the divorce papers. She says that she will support Saavi only because Saavi got pain only after loving Nityam so much. Vedika tells her that she is also mother and she know Nityam is doing wrong with Saavi. And she will make sure that Nityam expresses his feelings to Saavi.
Rishikesh and Ratna overhears Vedika and Nutan's conversation. He tells her that one side Saavi and Nityam are behaving like newly wed couple. And other side, Vedika is planning to do this. She tells him that Vedika won't let Saavi and Nityam get separated. He tells her that that's why his target is Vedika this time. She asks him that what is he going to do.Later, Rishikesh calls his police friend and asks him to do something. Police inspector agrees to help for money.
Vedika tells Nityam that she did not thought he will visit Goyal house and he surprised her. Nityam tells her that Saavi helped their family so he thought to thank her personally. She tells him that Goyal family is not like Rishikesh. Police comes there. Police inspector says that he came to arrest Nityam in domestic violence case. He reveals that Saavi gave complaint against Nityam.
Episode ends.
Precap – Police arrests Dalmias. Media reporters reports that. Saavi watches the news.
Click to read
Saavi Ki Savaari 29th March 2023 Written Update: