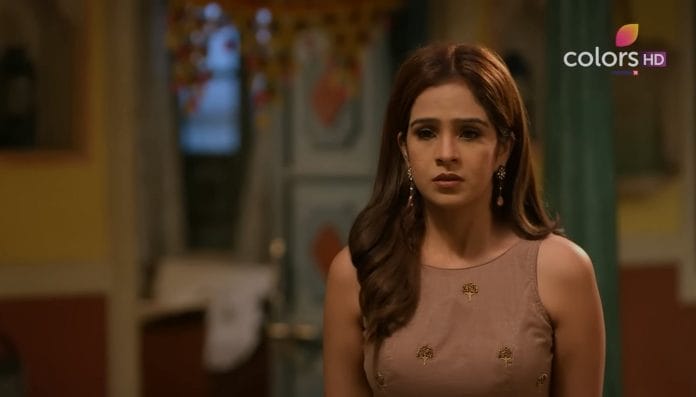 Saavi Ki Savaari Spoilers, Upcoming Story,
Gossip , Future Story, Latest News and Upcoming Twist on justshowbiz.net

Colors TV show Saavi Ki Savaari features Samridhi Shukla as Saavi and Farman Haider as Nityam in the lead roles. This is the story of the girl who drives auto to lead her family. Now, Dimpy got exposed in front of Dalmias so it will be interesting to watch that what going to happen in the future episodes.
Earlier its seen that, Saavi told Nityam about Dimpy and Sonam. Nityam took her to watch the CCTV footage. He told security guard to play live telecast of Dimpy and Sonam's conversation. Dimpy caught Sonam. She assumed Sonam as Shekhar. She confessed her misdeeds. Sonam hope that Saavi is recording everything. Dimpy claimed that she entered Dalmia house to destroy Nityam.
Dalmias got shocked hearing her. Raksham called the police. Saavi told Nityam that they should go and stop Dimpy before Dimpy attacks Sonam. Dimpy took the knife and she stabbed Sonam. She realised that she stabbed Sonam and apologized to her. Sonam told her that, the latter's game is over.
Dimpy understood everything and ran away from there. Saavi blamed herself for Sonam's condition. Raksham told her to catch Dimpy. He said that he called for an ambulance. Dimpy learnt that Himesh is with Sonam and Saavi. She hided from police. But Saavi found Dimpy.
In the upcoming episode, Nityam will say that they should handover Dimpy to police. Himesh will tell Nityam that he is Dimpy's accomplice. Dimpy will tell Himesh that he is a good person. She will think that she won't back off.
What Dimpy will do next? What will happen to Sonam?
All these questions will be answered in the upcoming episodes.
To know what will happen next in your favourite show Saavi Ki Savaari, stay tuned to this space.