Shashi Sumeet's Yeh Un Dino Ki Baat Hai – a 90's based show is really well-liked by its fans because of the plot of the story as it highlights all the high points of 90's era. From ' How the friendship blossoms at that time' TO 'what lots more happens in the life of lovebirds at 90's' – through SAMEER and NAINA; this show has really showcased it well and made to relished memories of that time.
Sameer and Naina after developing a feeling falls in love with each other and later their close bond turned into a romantic relationship. This process was awfully showed in the show. After confessing the love for each other and crossing all the hurdles the duo finally got married to each other and currently they both are seen enjoying their marital life like a 90's couple. Sameer and Naina after performing post marriage rituals headed Ooty for their honeymoon.
As, Sameer always wanted to spend some quality time with his newly wed wife Naina and his this desire got fulfilled as family has planned their honeymoon at the beautiful place Ooty but like always at Ooty too things doesn't fall as per his plan as he didn't got a single kiss from Naina which he was craving from long. In other words we can say more that romantic, Sameer and Naina's honeymoon was funny with their cute banters and fights.
Check out the detail.
When Sameer's romantic surprise for Naina got messed because of her:
No sooner Sameer and Naina reached to their honeymoon destination some or other thing happened that makes the duo to end up fighting. Well, as Sameer has always wished having a French kiss from Naina he has planned a surprise for Naina to spend a romantic time with her. Both were excited but when they reached the place the manager of the hotel stopped them midway claiming they can't step into sports shoes. SPORTS SHOES! yes, Naina under a beautiful dress opted sports shoes that shocked Sameer and he got irked. Sameer requested manager but he refused to listen them and asked to stay away. Sameer got angry and left the place, so this way their first night at honeymoon got spoiled because of Naina and Sameer kiss wish went on hold.
This scene for Naina and Sameer for viewers was enjoyable and at the same time this made to go back at 90's time and some can easily relate this sequence with their honeymoon of that era.
Sameer's another attempt to get close with Naina: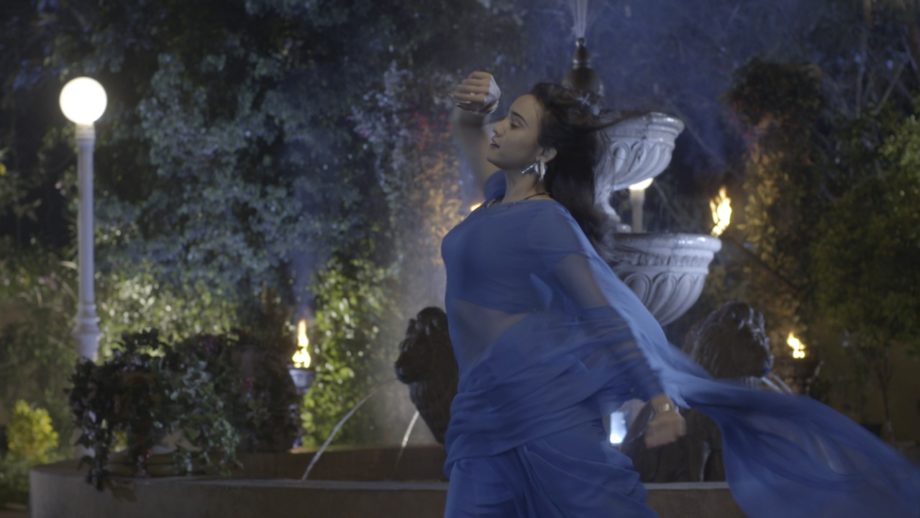 Well, after that- next morning Sameer and Naina sorted things and Sameer closes her eyes and takes her outside. Naina was mesmerized seeing the table decoration and they both had a great time. After that Sameer once again attempted to get close to Naina but later he decided to go somewhere else to make kiss memory special. Sameer selected blue saree for her and they both got ready. At the beautiful ambience the duo danced at the beat of romantic song and at the end when Sameer intensely gestured to kiss Naina …AHHH here too Sameer and Naina ended up having a fight because at the same time Naina started sneezing. Seeing Naina sneezing back to back Sameer got angry and left from there. And the voiceover of Sameer cracked us, when he said 'I thought I and Naina came alone for the honeymoon but she had brought along two guests too on the name of cold and fever'. Sameer and Naina two nights passed out without a single peace.
When Sameer Scolded Naina for not having 5 star etiquettes:
And it was not less than a fun to watch Sameer and Naina hotel sequence where Naina wasn't knowing that at 5 star hotel clothes are given to the laundry and she washed all the clothes and hanged it up at the balcony. The clothes fell down and the manager of the hotel shouted and asked who did this. Sameer asked Naina to keep quiet and don't tell that it's her because he don't wanted to get embarrassed but in an unfavorable situation Naina told everyone out there that it's her clothes. Later Manager asked Sameer to leave the hotel that made Sameer to huff and once again they both indulged into fight over this. And amid this the third night too got over with any romance.
So these were few moments that proved, more than intense romantic moment Sameer and Naina honeymoon was full of fight and for viewers it was fun to watch the special honeymoon sequence in Yeh Un Dino ki Baat Hai till date.
Sameer's wish to kiss his wife will be fulfilled anytime soon or Naina and Sameer have to wait till they go for another honeymoon? Do Shoot your comments on this and tell us.
Stay Tuned For more updates.