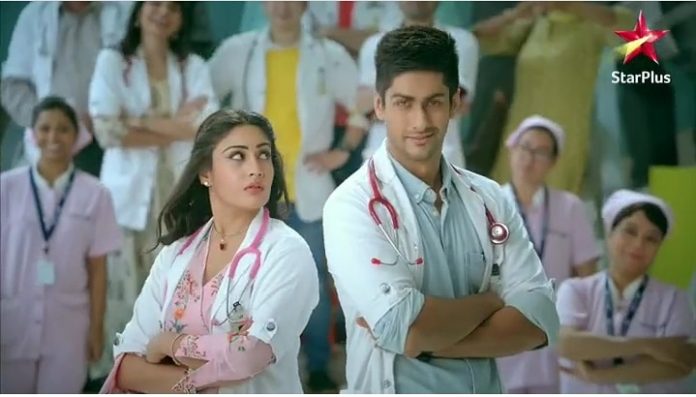 The sequel of Sanjivani 2 is much awaited and looks like it was worth it. The come back show opens up with a bang. 
Dr. Sid's entry: 
The episode starts with Dr. Sid talking to a girl with whom he has spent his night on a cliff. However, he fails to recall her name. There, on a food stall two kids steals sandwiches. The owner scolds them while the mother of boy who works in that stall shows her anger towards the boy. Boy start teasing her mother and while getting back he fell, and got hurt in his head. He then fell in water. 
Dr. Sid watched his struggle in water, tore his shirt and jumps from the cliff to save the boy. He took out the boy but he was not able to breathe. Dr. Sid immediately sanitizes his knife and pipe to give a cut at neck and save the life of the boy. Sensing there is still danger, he calls chopper of Sanjivani. When his acquaintance asks that why he lied.  He conveniently reply to his mate, "Iss duniya mein paisa amiron ko bachata hai aur gareebo ko jugad."
Dr. Sid treats the boy. When his jr. Doctor asks how he able to save life from a knife and a pipe, he says, "Problem ko problem ki tarah nahi dekhna chahiye, un problem ki possibilities ke bare mein sochna chahiye". 
Dr.

Ishani's entry:
While, on the other side Dr. Ishani stood at the Sanjivani gate.  She collides with Dr. Sid while going to reception area. They fight for collision. However, she notices some symptoms of low BP or low sugar low or sleepless night in Dr. Sid. She as a doctor and offers him chocolate without the knowledge that he himself is a doctor. 
On the reception, she met blabbering Dr. Asha who is from Haryana (from her accent) who too joined today. While Dr. Ishani is cleanliness freak and goes by the rules, Dr. Asha is normal. Together they head for orientation by Dr. Shashank. 
Dr. Shashank and Dr. Vardhan's entry:
Dr. Shashank enters in Sanjivani but struggles with severe pain. He was interrupted by Dr. Vardhan. Dr. Vardhan converse about Dr. Shashank leaving his post soon.  But Dr. Shashank says, he is leaving his post but not Sanjivani. 
In orientation, Dr. Shashank welcomes every new doctor in hospital. While Dr. Sid, was checking scan of brain of the boy instead of attending his orientation. When his Jr. doctor asks why he is not attending the orientation. He says,  instead of attending orientation for the third time, its better to save some one's life.
Dr. Anjali's entry:
In the orientation when Dr. Asha asks Dr. Shashank why is he resigning, and if so who will replace him. Dr. Shashank says he is resigning because he wants next generation to take his place. However, he didn't reveal any name for next to be on his post which irks Dr. Anjali.
Dr. Vardhan took advantage of this situation and says to Dr. Anjali that she is not suitable in eyes of his father for this post. 
Dr. Ishani got a call from someone which she picks up excitedly as she thinks that person must have called to wish her birthday. Some secret with Dr. Ishani's surname as she was advised not to disclose. Also the person reminds her of poornima so not to eat non-veg but didn't wish her for birthday as she expected. Later, when Dr. Asha wishes her after hugging her, she was shocked. Dr. Asha said, haven't she got ever hugged by her mom, she got teary. Later, she argued with Dr. Asha for wet and dry dustbins and she said that she is very strict for rules. 
Story picks up:
Another scene, Dr.Sid decides to take boy into OT for surgery. He asks his Jr. doctor to call Dr. Shashank for operation. Dr. Vardhan learnt about that and confronts him. He asks him to shift the boy to some government hospital as it will be hard for the boy to pay for operation. Dr. Sid said he'll pay and get treatment in Sanjivani only.
While he was consoling boy's mother, he got a call from reception that someone is waiting. He meets Natasha in visitor room.
Dr. Ishani took pride in getting ID card, white coat and stethoscope from Sanjivani. Jr. doctor got panicked when boy starts shivering. Dr. Ishani tries to check the boy, but nurse intervened saying this is some other doctor's case. She says, "Jab patients hi nahi bachega toh doctors aapas mein lad ke kya karenge" and stabilizes the boy. Nurse apologizes to her. 
Jr. doctor thanks Dr. Ishani and says sorry for getting panicked. She replies the same sentence which Dr. Sid says to Jr. doctor, "Problem ko problem ki tarah nahi dekhna chahiye, un problem ki possibilities ke bare mein sochna chahiye". He informs Dr. Ishani that Dr. Sid said the same thing in morning. 
While going for reporting she overhears the conversation how Dr. Sid is luring upcoming Bollywood actress for cosmetic surgery and asks 2,00,000 lakhs as commission. 
Since, Dr. Ishani cannot take any wrong, she warns Dr. Sid to expose him. Being a senior, Dr. Sid argues her that she can't as she is new and its her first day in hospital. He then pushes her from shoulder just by being naughty. 
Precap:
Dr. Shashank fell on floor and asks for Dr. Juhi in ears of Dr. Anjali. Dr. Anjali calls Dr. Juhi who is in certain camp away and informs her that Dr. Shashank has brain tumor. She also asks, if she be able to operate. However, in doctors attendance call, Dr. Ishani was called Dr. Ishani Arora. 
Do tell your views in our comment section. Let's Get Bizzin!!