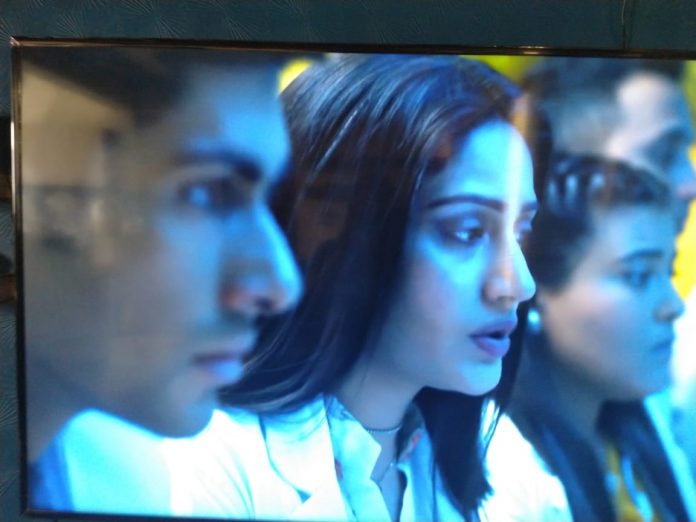 Similar to last episode, today's episode starts with Dr. Juhi operating on Dr. Shashank.  The operation is taking long hours. After three hours have passed operation is still not over.  Hence, Dr. Anjali gets panic in between who was just watching the operation.  Disturbed, Dr. Juhi asks her to leave her OT. Dr. Sid comes and stands with other doctors to see the surgery beside Dr. Ishani. Both argue again. Furthermore, Dr. Sid consoles Dr. Anjali but one ward boy informs him that he has been called by Dr. Vardhan.
Another doctor asks Dr. Ishani that if she has something to do with it. Dr. Ishani says she saved it in cloud storage so Dr. Vardhan must have got from there. However, other doctor say nice things about Dr. Sid.
Dr. Vardhan  meets Dr. Sid. Dr. Sid asks to let him stay till operation of Dr. Shashank gets over but Dr. Vardhan call guards and throw him out of Sanjivani. 
Dr. Sid belief in GOD:
Dr. Sid roams on street and calls his junior to get the information on Dr. Shashank's operation. He sees Bappa statue and pray for his well being. Whereas, in OT, Dr. Shashank is loosing pulse.
Dr. Sid prays in front of Bappa says, that he has never seen his father and Dr. Shashank is a father figure to him.
Dr. Shashank saved.
Here, Dr. Juhi tries to give shocks while Dr. Anjali panic outside the OT. Finally, she saves Dr. Shashank's life. The watch shows 4 hours 44 mins of time of operation.  Dr. Juhi looses consciousness after she saves Dr. Shashank's life. 
Dr. Vardhan disappointed: 
Nevertheless, Dr. Vardhan gets disappointed when he overhears Dr. Ishani conversation with other doctor of Dr. Shashank's successful operation.  He calls his manager that he cannot be CEO as Dr. Shashank is alive. 
Dr. Sid gets a relief after hearing good news of survival of Dr. Shashank. Happy, he meets some slum children and break matki of Govinda in that area.  
Here, in hospital two new doctors arrive and meeting with other doctors. Dr. Asha's childhood friend is one of them whom she was expecting one day earlier. In contrast, Dr. Ishani diagnosed hangover on him and throws water on his face. Dr. Rishabh comes and give the bad news of big accident. All the doctors are instructed to join the team on site. In van, Dr. Rishabh instructs about how to help the survivors. But, they were shocked to see the loathsome site of accident.
Precap:
Dr. Ishani treating patients. Dr. Sid arrives at accident site. Although, he punches Dr. Rishabh when he asks him to leave the site. Dr. Ishani climbing a car but slipped. Though, Dr. Sid catches her. 
For more such updates, keep looking this space. Do tell us your views on this new show in our comment box. Till then, Let's Get Bizzin!!