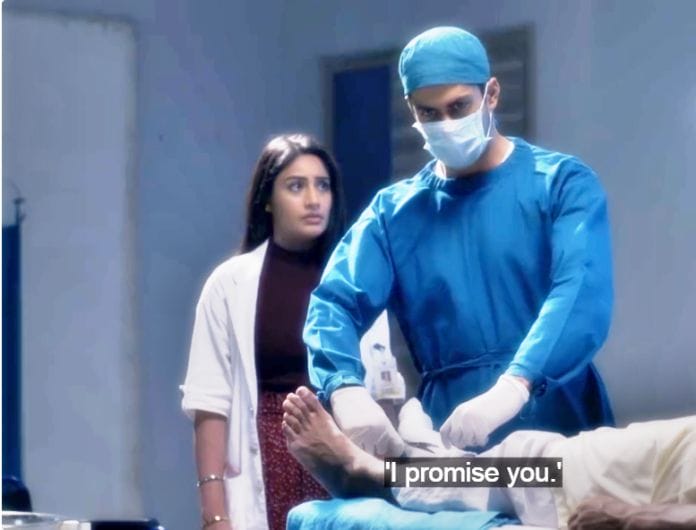 In today's episode viewers will witness another failed attempt of Vardhan to ruin career of Dr. Sid. 
Dr. Sid pushed Dr. Ishani out of room saying that if something happens, he don't her to be in trouble. 
Vardhan enters the room where Dr. Sid is operating but shocked to see Dr. Ishani inside. He rather searches for Dr. Sid all over the place in room and unable to find he returns angrily. 
Dr. Sid then came out who was hiding in balcony outside window and perform the operation. They are relieved that Vardhan is unable to catch him because Dr. Ishani who was outside saw him marching towards room. 
Vardhan takes all his anger on Dr. Asha by snatching the big operation chance which he was going to give if the plan succeeds. Dr. Asha came to conclusion that Dr. Ishani is a support of Dr. Sid and she needs to separate the two if she wants to succeed. 
Dr. Rishabh examines Utsav. Dr. Ishani comes to Dr. Sid and hugs him sharing her happiness that Dr. Rishabh thinks Utsav's wounds are healing and doesn't need to be operated. They have a moment together when Dr. Asha comes and congratulates him mentioning Vardhan. Dr. Ishani asks her how she knows Vardhan was coming to room and if she does why didn't she inform either of them. Dr. Asha tosses her question. 
Dr. Ishani is thinking when Dr. Rahil meets her. She shares her doubt on Asha again with better proof. Dr. Rahil suggests that Dr. Sid should know what Dr. Asha is doing. 
Precap:
Dr. Ishani is talking to Dr. Sid on phone telling him about Dr. Asha.