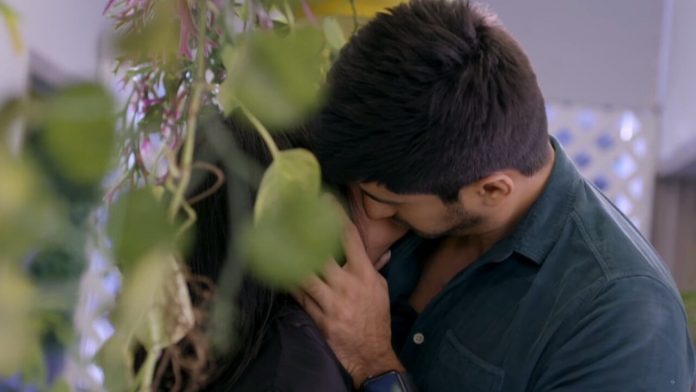 Good news for all Sanjivani fans (Nacho! Nacho!). The thing which fans thought will take ages in Sanjivani to see or some fans even drop the hope of happening, HAPPENED.  
Coming episode is full of SidIsha-ness with Sid calling Ishani his wife and teen bachchon ki maa. (Itti sexy maa we have never seen 😉 , to be precise at number 5) Their cute fight occurs when Ishani again tries to go away from Sid in coffee shop after giving him dose of reality which again fails (Ishani should really work for her convincing powers, just a piece of advice. 😆 ) 
Anyways she returns home but forget keys so Sid comes to rescue, we mean with the key which obviously he must have stolen. (Naughty Sid, what was going on in his mind. 😈 ). Then he handcuffed himself and Ishani who is not ready to give up his ideology in love and he kissed her on cheek. (Cough! Cough! Ahem!). She dragged him and he let himself get dragged. Finally, his patience give up. He pulled her and it's done. (At last, in third attempt. 😳 )
To fill the gaps, we will witness a beautiful Mansi who will appear as Rishabh's girlfriend. (OMG!! 8-O, Rishbh tu toh gayo.)
Today fans will also witness Asha who is really vulnerable at this point. Pity, she has no friends. Her only friend Vardhan threatens her to terminate her from Sanjivani and everyone in Sanjivani witness her plead and Vardhan's rudeness. Vardhan was a real villain today playing mind games. (BTW, #VeryHandsomeVillain). 
Precap (more Zordaar, savage Sid):
Asha trying to cut handcuffs but Sid says it cannot be as they are in love. (Thank GOD! Love ka jod hai, fevicol ka nahi. 😆 )
For such fun takes, keep reading this space. Hum phir aate hai. Until then, Let's Get Buzzing!!