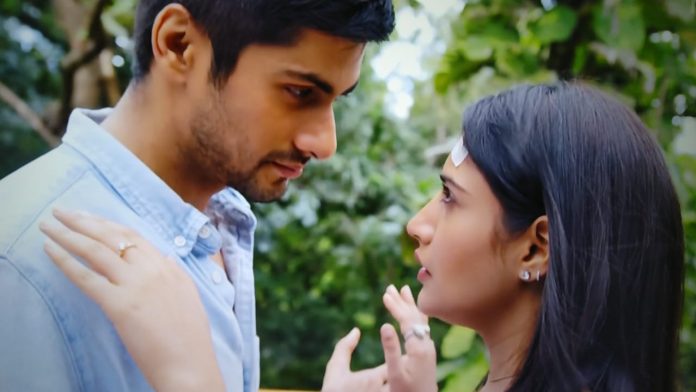 In Sanjivani, Dr. Sid is roaming helpless on road remembering how Dr. Asha asked him to deliver what he is promised. He also remembers how his childhood went without father's name. 
Dr. Sid and Dr. Ishani talking to each other. Dr. Sid says he cannot ignore the child and play with his future. Whatever Dr. Asha has done but she is right about the child. Dr. Ishani says she is her love. His heart is hers and she has right on her. She is not ready to sacrifice their love. But he should go and give his love and care to the child. Lastly, she takes a promise that only she will stay in his heart and gifts her a chain with SidIsha name engraved as pendant.
Dr. Asha thinking about her past that how her sister has given her life and ask her to leave that life. She says, she knows she is in wrong path but she will do everything in her capacity to remain a doctor, be it right or wrong way. 
Dr. Sid returns home and tells Dr. Asha that she can stay for the sake of child. 
Next day, Manoj (a patient) comes to Dr. Shashank requesting to reduce the bill. Dr. Shashank find out he is Dr. Sid's patient and there were many unnecessary tests. Dr. Shashank calls Dr. Sid and asks him about the bill. Dr. Sid denies despite of his signatures on that. He said, this might be done by Dr. Asha. Dr. Shashank says he should take care of his patient. Vardhan enters and plant a seed of doubt in Dr. Shashank's mind that Dr. Sid might be taking commission. 
Precap;
Dr. Sid and Dr. Ishani asks Dr. Asha the reason behind playing with Dr. Sid's life. Dr. Ishani asks her to tell truth in the name of her son.