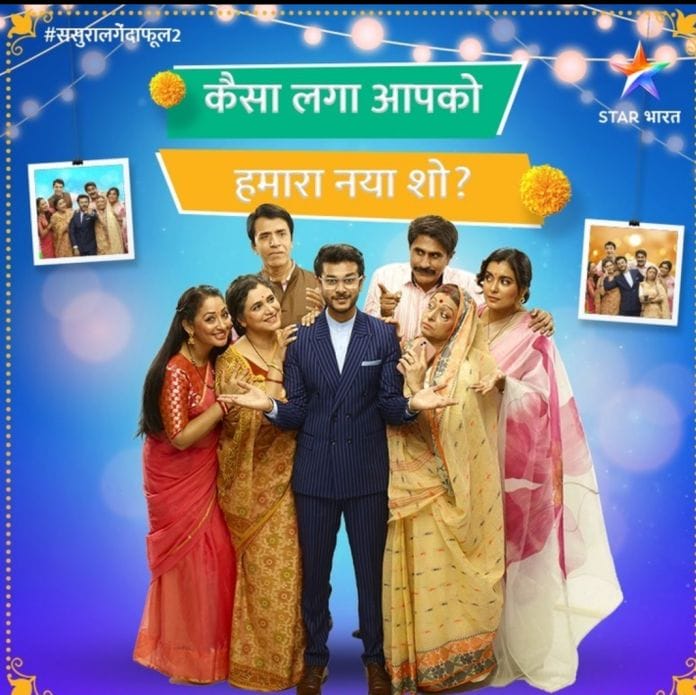 Sasural Genda Phool 2 Upcoming Story, Spoilers, Latest Gossip, Future Story, Latest News and Upcoming Twist, on Justhowbiz.net

The episode starts with Rano, She demands Titlee to divorce Ishaan and leave from this house forever. Titlee asks her Is she finished her speech? She shows the jewels to her and tells her its the love given by Ambarnath and Gayathri to her. They blessed her by giving it. She is value their love more then the jewels. Whether she stays in the house or leave this house that love remains same. She questions her doesn't she said she is behind money then take this jewels from her? She returns in to her surprising Rano. Meanwhile Shailaja teases Ishaan for being happy for Titlee.
Doesn't he felt happy to see Titlee got grand parents blessings. He shares to Shailaja that he wanna talk with her. He tells her that Suhana didn't come to meet him in restaurant and he didn't felt awkward when dance with Titlee. Shailaja asks him to accept he loves Titlee. He denies it and tell her it's not like that how will he betray Suhana? Shailaja asks him to sign in the divorce papers as Rano said! He can get rid of this nonsense relationship right? He tells her its not simple like she said and leaves. Shailaja smiles seeing him.
Later Rano appreciates Titlee for acting well. She says in sarcasm everyone in this house may fall for her magic but not her. Just keep it with her she may be need it after she leave the house. Rano leave from there. Ishaan enquires to Titlee about Rano's visit but she lied to him as nothing. He reminds Shailaja's word seeing divorce paper. Meanwhile Rano shares to Alok that his parents are acting weird here. She narrates to him that she is trying to kick that Titlee out but they gave their blessings to her and accepted her as their daughter in law.
Alok says that whether Ishaan divorce Titlee or not? It's his decision. We can't able to take decisions in his life. Ambarnath is an old person he is trusting in relationship and giving importance to our traditions. She might accept it. Later Disha brings the dried clothes to Shailaja's room. She noticed the jewels box inside the Almira. She reminds the kidnapper's word. She thinks if she sell it she will get enough money to solve all her issues. Disha steals two bangles and about to leave. Eilesh hugs her from behind giving shock to her. Disha questions him what's the need to caught her like this? Is she stole anything?
Eilesh shares to her that he was trying to lit up her mood nothing else then that? Disha lashes out at him for giving shock to her. Eilesh apologize to her and tells her that he has no intention to scared her. He tried to hit up her mood only. He leaves from there after apologies to her. Disha keeps the bangles back in Almira. She thinks that she lost her brain that's why she tried to steal her bangles. Shailaja comes there. Disha informs to her that she came to give back the clothes but she didn't closed the the Almira properly. Shailaja says that she is forgetting many things now. Whom will steal things in this house.
Later Meethi comes to Ishaan's room to share her thanks to them for taught dance to her. Both Ishaan and Titlee plays Ludo with Ishika and Meethi. They are having fun there. Rano comes there and taunts Titlee there for ruining her peace. Ishaan complaints that she is blaming Titlee for everything. Ishaan thinks that mom needs sign in divorce papers but it's wrong to badmouthing Titlee in this way.
Episode end.
Click to read
Sasural Genda Phool 2 1st April 2022 Written Update: Titlee offers Help to Titlee