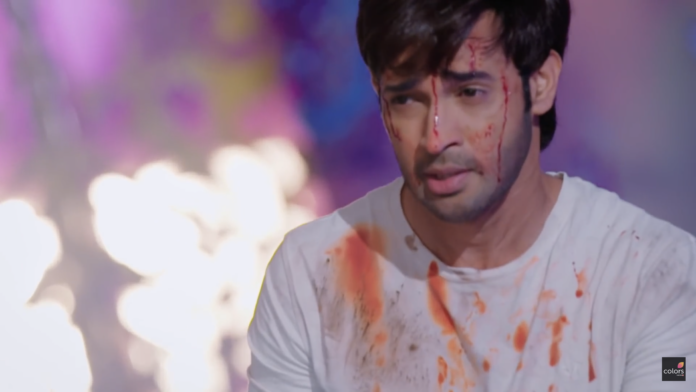 Sasural Simar ka 2 Spoilers, Upcoming Story, Latest Gossip , Future Story, Latest News and Upcoming Twist on justshowbizz.net
Colors TV newly launched show "Sasural Simar ka 2" has garnered a huge amount of audience from the date of it's launch. The gripping storyline filled with twist and turns makes it engaging for the viewers. Will Oswal's family accepts Simar as a new family member? It will be exciting to see how Simar wins over there hearts.
In the previous episode we have seen that Aarav and Simar entered a Garba function. Simar was very excited and performed Garba. Mohit also with his goons reached the same place and ordered his goons to find Aarav. Vivaan also reached at the location hiding himself inside their car, he saw Mohit and hitted him with a big stone. Reema was looking for Vivaan every possible place. Simar asked Àarav to dance with her and challenged him.
Vivaan saw Aarav's car, he ran and told Mohit goons that his brother was also here and went got into the crowd. Vivaan found Aarav, he shouted his name but due to loud music Aarav didn't hear his name. Goons saw Vivaan and attacked him, they captured him in a carpet. Aarav told Simar that he was feeling stressed, Simar told him may be they were seperating that's why he felt like that. Goons bought Vivaan to Mohit, he ordered them to throw Vivaan and Aarav on road and then he fainted.
The goons thrown Vivaan on road where Reema was standing and took Mohit to hospital. Reema shouted at them and tried to wake Vivaan to get back his consciousness. Aarav holds Simar's hand. They both were upset as they were spending their last hours together. When Aarav reached Oswal Mansion Simar asked him to come inside after her. Geetanjali Devi was waiting for them and looking at the timer.
In the upcoming episode we will see that Simar will sing a song for Aarav in the garden, everyone will come out and keep watching them ahead Geetanjali Devi hears the song and comes out. Aarav tells to Badi Ma that they want to say something, she tells them to come inside and say.
What will be Geetanjali Devi reaction on Simar's song?
Will Aarav convince Badi Ma to keep Simar?
What will Reema do to save Vivaan?
Stay tuned to know more about your favourite show Sasural Simar ka2 on this space.