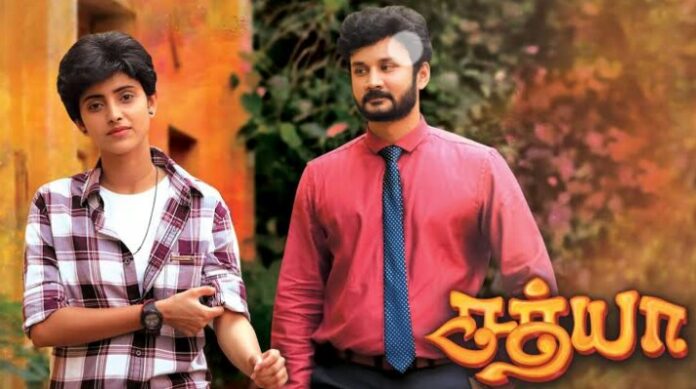 Sathya Upcoming Story, Spoilers, Latest Gossip, Future Story, Latest News and Upcoming Twist, on Justhowbiz.net
The episode starts with Anitha and Veerasingham are sleeping in their room. Veerasingham wakes up to drink water. He finds the bottle is empty. He rushes to kitchen. He drinks water and smells the biriyani's smell. He notices someone is cooking in Kitchen. He questions Vasanthi why is she cooking Biriyani in middle of night? Whom going to eat at night? She is not replying to him. He asks her to talk something. Selvi turns towards him and says that she is cooking for him. He used to get hungry at middle of night. She takes Biriyani and gives it to him. Veerasingham frighten seeing her.
He starts to shout Ghost! He wakes up everyone there. He informs to Smiths that he saw ghost in kitchen. He informs to them that he saw Selvi cooking Biriyani in kitchen. Anitha questions him why is he blabbering? He asks them to check it. Sathya signals Prabhu to go and check it. Indhumathi and others go to kitchen. Veerasingham fears to go there, reasoning Ghost is there. Indhumathi informs to him that there is no ghost there. She shows to him that nothing is here. Veerasingham says to her that he saw it. Indhumathi complaints that how come they are seeing ghost there?
Everyone leaves from there. Saravana questions Veerasingham Is he really saw ghost? He says to him that he clearly saw it. Selvi is torturing him for Saravana's mistake. Veerasingham pleads with Selvi's ghost to leave him and runs from there. Saravana hears the laughing sound and runs behind him. Sathya is driving the car looking around. She is going to somewhere secretly. She is checking around and sneaks inside one house unlocking it. Starts smiles seeing Selvi there. She reminds what happened two days before? While doing final rituals to Selvi. Mandapoona keeps noticing Saravana and Veerasingham.
Once they left he signals to Sathya. Prabhu and Sathya are standing around Selvi's dead body. Makan takes Peachy from there reasoning something. Starts asks Mandapoona to check whether someone is noticing them or not? Sathya calls Selvi to get up. Seeing her alive everyone got jerks. Starts informs to them that Selvi is alive she is not ghost! She offers money to him to hide this matter from everyone. She asks him to set up that he buried her.
Sathya enquires to Selvi how is she? She assures to her that she is doing well. Sathya is teasing her by calling as 'Ghost'. Sathya informs to her that Saravana believed that she is ghost! Selvi questions her how many days it will continue? Starts says to her till Saravana accept his mistakes! May he take one week or month to accept it. Till he accept the truth she might act like this. Selvi says to her that she fears to get caught.
Sathya asks her to stay safe inside the house. Hereafter she is going to act like ghost there. Double role. Saravana asks Vasanthi to bring dinner to terrace. She nods to him. Saravana is waiting in terrace. She places the plate near him. He finds the cow dung in it. He finds Sathya is there instead of Vasanthi. He mentions her as Sister in law.
She says to him that she is not his sister in law but Selvi. She questions him why did he cheated her? Because of him she died! Saravanan frighten and takes step behind. Starts is approaching him and starts beating him. Selvi says to him that she won't leave him alive for his sin. Saravana runs from there. He dashes with Veerasingham. Saravana informs to him that ghost is there. Selvi is there! Veerasingham notices Sathya there. He says to him she is Sathya not Selvi. In fear he is getting illusions. Starts says to him that she is Selvi not Sathya.
Veerasingham questions her why did she doing dubbing? Starts says to him that Saravana cheated her. Because of him she died. So she is here to give the punishment to him. Starts starts beating Saravana. Saravana is running here and there to escape from Sathya.
Veerasingham closes his eyes! Prabhu calls Sathya. She stops beating him. She fears how to manage this situation!
Episode end.