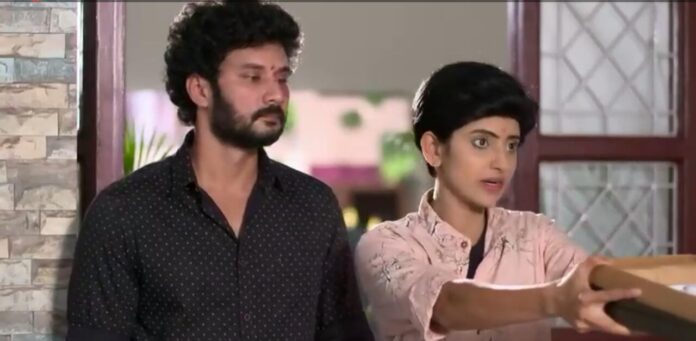 Sathya Upcoming Story, Spoilers, Latest Gossip, Future Story, Latest News and Upcoming Twist, on Justhowbiz.net
The episode starts with Prabhu and Sathya are waiting for Chief doctor in Sathya's ward. Sasi is also there. Prabhu complaints to Sathya that doctor used to visit her on correct time daily but late today. Sathya agrees with him. Sathya says to Prabhu may be Latha expecting them in mandap. Everyone are waiting for doctor there. Chief doctor visiting all patients one by one and checking their reports. He atlast enters into Sathya's room.
Prabhu greets him but he ignores him. Doctor checks her and enquires to Sathya how is her pain in her leg? she replies as feeling good. He says to her if she takes rest properly she will start walk soon. Prabhu thank him. He glares him and leaves from there. Prabhu asks the nurse to helps them. She says to Prabhu that they can use back door to leave buy they might be back before 12pm. Prabhu assures to her. Nurse says to him that she needs a dummy patient now to covers up Sathya's place.
Sathya is staring Prabhu in confusion. Prabhu replies to Nurse what's the need of dummy patient he will give real one. Sasi asks to him who is it? in excitement. Prabhu replies to him its none other but Sasi. He gets shock to hear it. Prabhu asks him to pretends like patient and helps Sathya to change her clothes. Prabhu covers Sathya face and him then walks out of hospital while pushing Sathya's wheel chair. Sasi lays on Sathya's bed covering himself in bedsheet. Chidambaram's henchman notices them and informs to him. Chidambaram asks his goon to follow his plan at any cost. He wants to stop Sathya reaching to mandap. Latha and her mom are waiting for Sathya in temple.
Sathya and Prabhu are going to temple in car. Chidambaram alerts his goons to start the plan. They warns him to don't ruin the plan. Sasi pretends like Sathya in her place. Head doctor comes there to give the medicine to Sathya. He is unaware of Sasi resting in her place. Bhuvana notices him entering into Sathya's ward she rushes behind him.
Doctor tries to give injection to Sasi but nurse stops him. She lies to him that Sathya is lack of sleep. She is sleeping now so don't disturb her. Doctor replies to her that he can understands it but he must give the injection to her on time. Nurse tries to stop him but went in vain. Sasi fears to get caught. Nurse injects him instead of Doctor. Sasi shouts in pain. Doctor feels strange hearing his voice he about to check him but leaves sesing chief phone call.
Sasi complaints to Nurse for giving injection to him. Sathya and Prabhu notices the crowd in way. Prabhu asks them to clear the way for them. Someone informs to Prabhu one man met with accident so helps him to admit in hospital. Prabhu deny it reasoning he wants to attend one marriage. Sathya asks to Prabhu what if someone think like this when she met with an accident? Prabhu helps the person and drives to hospital. That goon places knife on Sathya's neck and threatening Prabhu to drive straightly. Sathya and Prabhu looks each other and listening to him. Sathya diverts him and locks him. Goon slits Sathya's hand in hurry and escapes from them. Prabhu shouts in anger.
Episode end.