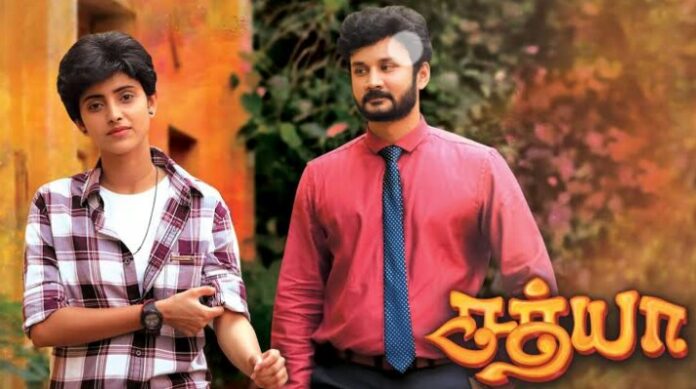 Sathya Upcoming Story, Spoilers, Latest Gossip, Future Story, Latest News and Upcoming Twist, on Justhowbiz.net
The episode starts with Vasanthi informs to Sathya that she saw her holding one yellow cover in her hand. Sathya enters into Selvi room and starts search everywhere. She finds huge amount from her bag. She questions Vasanthi Is this the cover she saw yesterday? She confirms it with her. Sathya asks Vadanthi to hide this matter from all. Sathya places the cover back to its place. Sathya stops Manohar bike in road. He says to her that he already stopped doing wrong things after she warned him. Sathya informs to him that she is not here to question him about it. Sathya asks to him Is Sadhasivam took money from his account recently for rotation? He lies to her as don't know! Sathya informs to him that she left him alive without firing him from his job, thinking about his family! She asks him to save his job by confessing the truth to her. He informs to her that he withdraw money recently. Sathya asks him to leave from there.
Sathya is waiting for Prabhu there. He comes out after fresh up. Sathya asks 5 lakhs rupees to him as debt! Prabhu questions her what's the urgent? Sathya lies to him that she is wishing to develop her service centre. She got one ground for lease which is close to her service centre. If she use this amount then she can get that place. It will be useful for her to park that car there. Prabhu appreciates her idea! He says to her that he will do anything for her. He assures to her that he will transfer money in morning. Sathya says to him that she needs money urgently in morning. That owner is in need that's why. Prabhu says to her that he has rotation money. He takes bunch of amount and gives it to her. Sathya places it in front of him in drawer. Sathya asks him to take her out for dinner. He nods and takes her from there.
Morning Sathya notices Prabhu is getting ready for office. She pretends like searching for the money. She informs to Prabhu that money is missing. Prabhu gets shock and helps her to search for it. He questions her where it's went? He doubts that someone took this money when they went out for dinner! Prabhu and Sathya goes down and calls everyone to come there. Prabhu informs to all that he gave money to Sathya for her service centre but it went missing now. He says to them clearly that someone took it. Indhumathi stares Anitha. She promises to her that she didn't take it. Anitha and Veerasingham stares each other in suspicious way. Sathya signals to Vasanthi. She questions Selvi's mom doesn't she count money in her room at night? She refuses it. Vasanthi stands in her word. Anitha and Veerasingham says if they check her room then they can find the truth. They leaves to check the room and finds the money from there.
Anitha says to Selvi that she shoes her place. How could she expect to marry her brother? Anitha shows the money to all and blames them as thief. Sathya says to her that she never expected this from them. Selvi's mom refuses it and says to her that she didn't steal the money. Sathya questions her why did she staring Sadhasivam? She pressures her who give this money to her? She reveals to Sathya that Sadhasivam gave this money to her. Sathya questions him why did he gave this money to her? He lies to her that he gave it to her for marriage expenses. Sathya starts laughs at him and says she is not fool to believe it. Not only her but also his Cousin Anitha too. She asks Selvi's mom to say the truth for sake of Sathya. She reveals to her that Safhasivam threatened her to kill Selvi. He said to her clearly that his son won't marry Selvi. If she want to save her daughter then take this money and leaves quietly. Everyone stares Sadhasivam in anger.
Episode end.