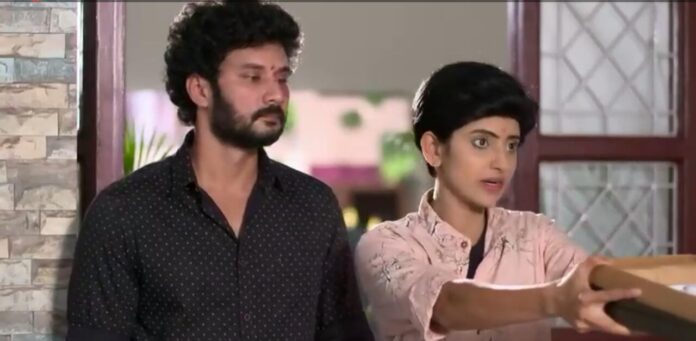 Sathya Upcoming Story, Spoilers, Latest Gossip, Future Story, Latest News and Upcoming Twist, on Justhowbiz.net
The episode starts with Sadashivam, Anitha, Saravana and Veerasingham are watching Tv in hall. Selvi brings coffee to all. Veerasingham says to Selvi that he don't like to drink coffee in this time. He asks her to bring Horlicks or boost for him. Selvi thinks that Veerasingham used to drink everything then why did he acting strange today? Selvi leaves from there. Indhumathi comes there talking with Inspector in mobile.
Indhumathi asks Inspector to finds out the person whom tried to kill Sathya. Inspector says to her that he wishes to enquires her family members too. Indhumathi assures to him that she will allow him to do it. She wanna see who is behind this all. She wishes to see them punished. Sadashivam and Anitha gets surprise to hear it.
Anitha questions Indhumathi what did Inspector said to her? Indhumathi narrates everything to her. Sadashivam deny it reasoning it's feel like he is suspecting them. Indhumathi replies to him, she really don't care about anything. She wanna finds out the culprit. Selvi asks leave to her. Anitha deny it.
Indhumathi gives permission to her and takes Selvi with her. Saravanan thinks that Selvi escaped from him. Veerasingham teases him. Vinoth enters into Sathya's ward disguised as doctor. He says to unconscious Sathya that destiny wishes to see, Sathya dying in his hand. He tries to strangle Sathya's neck but he can't.
Prabhu stops Vinoth from touching Sathya. Vinoth pushes him down and runs out of the room. Vinoth stops seeing Sathya there. Prabhu is resembling Sathya there. He shows black and blue to Vinoth. Inspector comes there and arrest Vinoth. Sasi questions Prabhu how comes he got this much anger. He thought Sathya is beating Vinoth for a second. Prabhu says that he too feel the same.
Doctor checks Sathya and informs to all that her pulse is normal. She should have open her eyes in this mean time. Though she didn't so he asks someone to keep talk with her whom really close with Sathya. Indhumathi asks Prabhu to do it. Prabhu holds Sathya hand and sharing his emotions with her. Finally he opens up with her that he loves to live with her. He fell in love with Sathya. He says I Love You to Sathya emotionally. Sathya starts reacting for it.
Episode end.