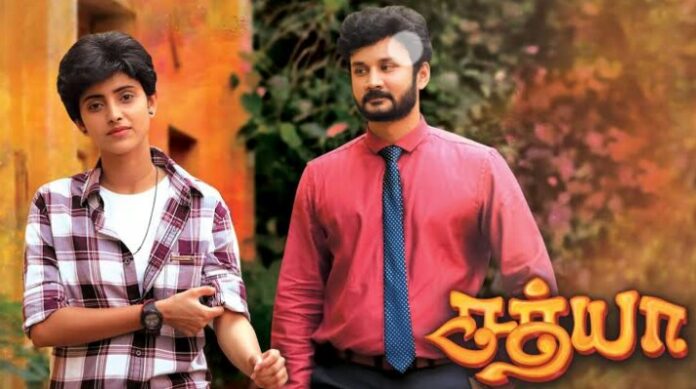 Sathya Upcoming Story, Spoilers, Latest Gossip, Future Story, Latest News and Upcoming Twist, on Justhowbiz.net
The episode starts with Sathya and Prabhu reaches to Kodaikanal. Prabhu showing some places to Sathya. He gets a phone call so he moves to attend the call. One thief is following them. He steals Prabhu's bag and runs from there. Sathya alerts Prabhu. Both are running behind the thief. Sathya can't able to caught him because of her sarie. Prabhu is about to caught him but he escapes from him. Thief falls down in certain point. He runs away leaving the bag behind. Prabhu opens the bag and gets a relief to see the painting is safe inside the bag. He closes it soon when Sathya comes near him. Sathya questions him why did he ran like that? Its just his clothes are inside his bag right?
Prabhu replies to her that important office files are inside the bag. Sathya thinks that Prabhu is still not ready to say her that he has painting with him. Prabhu complaints to Sathya that she called him as Amul baby. He asks her to behave like Sathyavadi. Sathya nods and mentions him as Athaan. Prabhu stops the cab and asks him to drop them in guest house showing the address to him. He talks with him about the rate and allows them to sit inside the cab.
Sathya and Prabhu are looking the scenery through window. Driver gets a phone call from his relative. He gets shock to hear that Bullet Dharma involved in his problems. He asks his relative to don't poke his head in that matter again. Sathya questions Prabhu Is he the same Dharma whom Suresh mentioned? He replies as yes. They again starts listening that Driver phone conversation. Driver asking his relative to leave that problem reasoning that Dharma is a dangerous person. He went inside jail after done 18 murder. They can earn money if they loss it but what if died? Sathya alerts Prabhu that Dharma seems very dangerous. Driver says to Sathya he is very dangerous fellow. Driver drops them into guest house.
Sathya mentions Prabhu as Amul baby. He asks her to behave like Sathyavathi. Hearing this Driver misunderstands them as lovers. He bargs them to give 1000 rs for dropping them. Prabhu questions him why did he asking high amount doesn't he agree to get 500 from him. Driver complaints to him that he saw many couples. None will give so much respect to their wife like the way Prabhu giving. Sathya also mentioning him as Amul baby so they are definitely not husband and wife. Sathya gets angry so Prabhu gives the amount to the driver.
Kesavan comes there and welcomes them. He says to Prabhu that owner informed to him that Prabhu is coming today. so he cleaned all the room and house for him. Prabhu nods. Kesavan introduces to him and adds that he is a care taker of this guest house. 4 kids are playing there. Prabhu questions him Is his relatives kids came today? Kesavan replies to him those kids are his own kids. Prabhu and Sathya widen their eyes in shock. Kesavan wife comes out she is also carrying one kid and also she is pregnant. Sathya pouts seeing this all and glares Prabhu.
Kesavan introduces his wife to him and says to him that his owner rarely comes here so he has no other job to do. Prabhu replies to him that he can understand it seeing his kids. Kesavan questions Prabhu how many kids he has? Sathya laughs hearing it. Prabhu replies to him that they are newly married. Just one year passed. Kesavan teases him and informs to him that he loved his wife but none agreed for their marriage, so he made her pregnant so they arranged their marriage. Sathya sighs. Prabhu asks Kesavan to stop poking his head in their matters and goes in. His wife asks him to shut his mouth.
Sathya and Prabhu reaches to their room. They places their bag in their room. Sathya moves to fresh up. Prabhu opens his bag and takes out the painting from it. He hides it inside the Almira. Sathya comes out so he asks her to unpack his bag and place all his things inside the almira. Sathya nods. Prabhu goes inside the washroom. Sathya checks for the painting but its missing in it. She doubts where did he hide it?
Episode end.