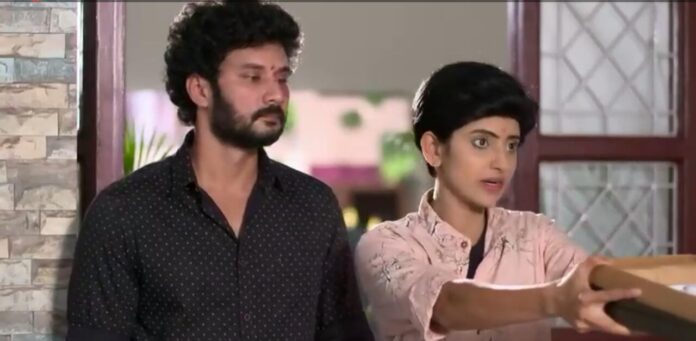 Sathya Upcoming Story, Spoilers, Latest Gossip, Future Story, Latest News and Upcoming Twist, on Justhowbiz.net
The episode starts with Prabhu brings lunch for Sathya. He is unpacking the lunch box. Sasi drools over seeing it. Sathya enquires to Prabhu why did he bring these many food here? Who going to eat this all? Sasi replies to Sathya that Prabhu worries for Sasi reasoning he is waiting in hospital daily. So he bring this food for him. Prabhu warns Sasi if he touch the food he will kill him. He brings all these food only for Sathya.
Sathya smiles seeing Sasi. Sathya says to Prabhu that she can't able to eat these items in normal days then how will she eat in this state? Prabhu says to Sathya she might eat this all then only she will get the strength. Prabhu adds that he puts so much efforts to bring this food for her. Prabhu starts feeds to Sathya. She is staring him emotionally. Romantic song plays at the background. Janaki notices this and feels very happy.
Sathya says to Prabhu she is full. Prabhu pleads her to eat a lot. Sathya refuses to eat. Sathya asks Prabhu to give the food to Sasi. He agrees with her. Sasi disappears from there with food. Prabhu brings water to Sathya. Janaki enters in with food. Prabhu questions her why is she bringing food here? He says to her that Sathya already ate. Janaki replies to him that Sathya and Janaki done some good deeds in previous birth that's why Sathya married to Prabhu.
Janaki praises Prabhu's act. Prabhu says to her he didn't done anything much. Janaki asks him to accept the money from her side. Prabhu refuses to accept reasoning Janaki is not considering him as son in law. Sathya is his wife he has all rights to spend money for her. Janaki feels happy to hear it.
Anitha and Veerasingham are watching TV. Indhumathi comes down talking with someone in phone. Prabhu comes there. Indhumathi enquires Sathya's weight to Prabhu while mentioning as her daughter. Veerasingham misunderstands it as Anitha and replies 67kg. Indhumathi asks Prabhu to say it. He is not sure about Sathya weight so he guesses it as 45kg. Indhumathi says to Prabhu that she gonna donate 45kg silver to temple.
Anitha complaints to Indhumathi she is doing too much. Indhumathi ignores her. Anitha leaves from there angrily.Nirmala informs this to Sathya she tries to convince Indhumathi. Indhumathi is adamant in her decision and ties a rope in Sathya's hand for her safety. She wishes to give Annadhanam for poor peoples in Sathya's name.