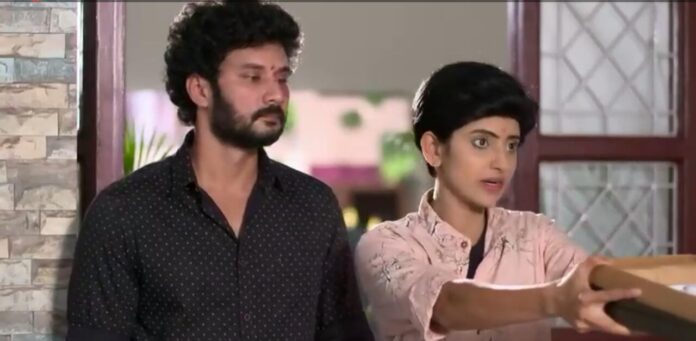 Sathya Upcoming Story, Spoilers, Latest Gossip, Future Story, Latest News and Upcoming Twist, on Justhowbiz.net
The episode starts with Prabhu is drawing the baby face. Prabhu kneely shaping it. Indhumathi is noticing him from behind. Prabhu completes the drawing and says to himself that Baby is looking like Sathya. His baby wants to look like Rowdy baby. He stares the picture happily. He wishes to surprise Sathya by gifting the picture to her. He writes kutty rowdy baby near the baby picture.
Indhumathi happiness having no bounds. She walks near pooja room. Prabhu is dancing for pondatti nee pondatti nee song dreaming about Sathya and gives romantic expressions there while hugging the drawing. Indhumathi prays to god and thank god for making her wish comes true. She says to god that she scold him for Sathya's accident but now she understands his reason behinds it. He fulfills her wish, so she thank the god and says to him that she will sleep well today. Saravana comes to his house in saint dress.
Selvi notices Saravana in front of the house. Whom disguises Saint dress and looking like a real saint. He enters into the house while chanting manthras and singing devotional songs. Seeing him Anitha and Nirmala questions him why is he in this state? Saravana replies to them that he got knowledge now. His third eyes opened he got the wisdom. All are staring him in strange way.
Nirmala comments that he never visits temple even after she requests him. Then why did he changed in this way? Saravana replies to him that he changed recently now he understands the culture. He will concentrate on it. Selvi leaves from there. Indhumathi visits the hospital and gives sweets to Sathya's brothers.
Indhumathi says to them that she has one good news to share with all, but she will say it first to Sathya. Indhumathi gives sweet to Sathya and says to her she wants to share one good news to her. Sathya excites to hear it. Indhumathi says to Sathya that Prabhu accepts Sathya as his wife. Sathya replies to her don't misunderstands him reasoning he is taking care of her as a friend. Indhumathi deny it.
Sathya again says to Indhumathi that she fed up with him. She misunderstood him having feelings on her but he disappointed her all times. Indhumathi says to her its different this time reasoning he completes the drawing. Sathya feels happy to hear it. Indhumathi narrates all to her. Sathya wishes to see him showing it to her so she asks Indhumathi to pretends like she has no idea about it. She nods. Meanwhile Saravana appologizes to Selvi and pretends like nice to her. Saravana smirks seeing her.
Episode end.