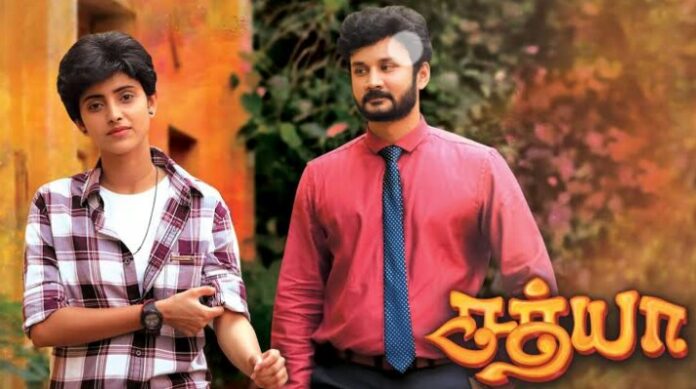 Sathya Upcoming Story, Spoilers, Latest Gossip, Future Story, Latest News and Upcoming Twist, on Justhowbiz.net
Today episode starts with Sathya and Prabhu waiting for Dinesh when he is getting late Prabhu to ask to Sathya does she heard this place name or not? Sathya pointed one car and ask to Prabhu to confirm whether it's his car or not? Prabhu confirms it as Dinesh's car. He got down from the car and waits for his friends. When they reached there Sathya tells Prabhu to record his activities.
Prabhu recording how Dinesh giving small parcels to them and receiving the money and arguing with them and leave in his car. Sathya got down from the car and stopped his friend's bike and question them Isn't he Dinesh? They nods as yes. Sathya asked about the parcel they leave immediately in their bike in the fear of get caught. Sathya shouts in frustration Prabhu too joins with her.
Selvi who selling small small things to random people they deny it . Three persons looks like goons standing there she requests them to buy anything reasoning she is hungry. He questions her how much she will get after-sale it all. She replies to him Rs. 150. He touches her in the wrong eyes and ask her to go with him he will give enough money to her.
Selvi got angry and shouts on him to remove his hand from her, he shouts back to her how dare her to raise her voice against him. She removes her chappal and tries to beat him but he pushed her down in anger but Sathya reaches there on time. Sathya helped her to get up seeing her there two of them got jerk and advise another one to leave but he talks down on the woman Sathya slapped him hard on his cheek he fell down. Prabhu stops her by saying they will die in her hand so let's call the police. They begged for forgiveness to her and leaves.
Sathya advised Selvi to stop selling these items to strangers because its not safe for her. Selvi reasoned that they are in hungry and her mom is sick. Sathya asked her to visit her house tomorrow. She dropped her in her area and remind her to call her before she coming to her house. Prabhu ask to her what job she will give to her. Sathya says she is thinking about that only.
Prabhu gives an idea to Sathya to appoint her as a helper of sympathy because they have lots of work pending for marriage. Sathya replies its a good idea and ask him to hide the matter she and Selvi from the same area then his family will show the anger on her. Prabhu agreed
The next day Saravana keep complaining there is no bar and smoking room in this house and send the security to buy Cigaratte to him. Selvi comes there and misunderstood him as security. He ask about her details and advise to her not to inform them that she misunderstood him as security. Prabhu introduce Selvi to his mom and add her in work.
Sathya, Indhumathi, Anitha and her husband is watching Tv Selvi come there with tea. She gives it to Sathya and Indhumathi. Sathya pretending to ask her who is she? She is new to here? Sathya signals to Selvi to act along with her she understood it and replies she is a new servant here. Sathya sipped the tea and asked her to go she asks to Sathya mentioning as Sister what should she cook for lunch. Anitha got a doubt when she mentioned her as Sister and question her Is she know her before?
She blinks and lie to them she saw her in Tv . Veerasingham complained she done a big mistake she didn't give coffee to him. She doesn't know his value that's why so she asked Indhumati to tell about him. She leaves from there silent, he asks Anitha she threatens him shall she say everything he gulps and ask her to leave .
Sathya says she will say it but he requests her not to . Sathya replies he will add some extra points. He replies already he is bearing the effect of her extra bit so not anymore. Sathya mocks him and leaves. Selvi suppress her laugh and leaves. Veerasingham complaints even servant too not respecting him.