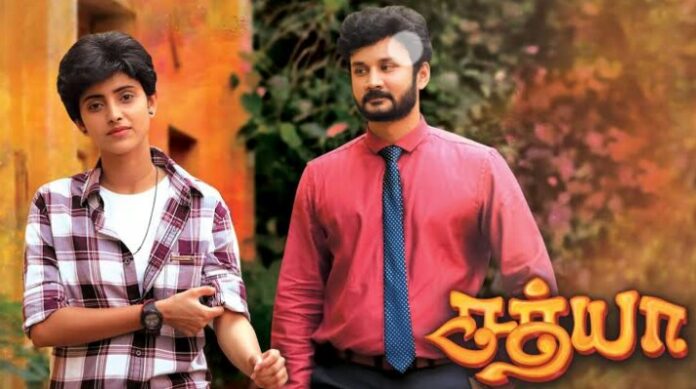 Sathya Upcoming Story, Spoilers, Latest Gossip, Future Story, Latest News and Upcoming Twist, on Justhowbiz.net
Today episode starts with Chidambaram and Vinoth reach to the boxing competition place in their car. They are welcomed by the crowd because they are the sponsers of the show. They enters in happily Vinoth eyes were searching for Prabhu but he is not there yet. He notice Sasi there and teasing him.
 Sasi replies to him don't smile a lot Prabhu is not a coward to hide. He will come on time and win the title at any cost he gonna watch it. Vinoth says to him not bad even comedian getting angry. He wished him a death wish and says to him all are well trained boxers his Prabhu gonna leave from here as dead body.
 Sasi gulps hearing it. He is waiting for Prabhu there Coach ask him to get ready soon. Instructor announced the first group name as Prabhu and Sasi. Sasi thinks they are the first group but still Prabhu didn't reach here. He thinks to change his dress and hide there till Prabhu comes there.
They announced the match gonna start in a minute. He mentioned the contestant name there. Opposite contestant enters into the ring. He is looking very rough and tough to deal. Prabhu name announced but he is nowhere to seen so he ask the substitute to start the game. Helper boys carrying Sasi in their hands and bringing to the ring.
Chidambaram question to Vinoth will Prabhu comes to fight here or escape? He replies to him that this money is very important to him so he will definitely come. Sasi saying to the helper boys he even don't know the spelling of boxing so leave him down. They tease him by saying he was kidding them. He swaer to them he don't know boxing. They question him then why did he sign on the agreement. He replies to him that he signed while closing his eyes. They throw him inside the ring.
Sasi eyes gets widen seeing the opposite contestant. He is four times bigger in size then him. How he gonna boxing with him. If he gets into his hands then he is chatni. Competition start. Sasi escaping from him while running here and there around the rings and going under his legs. Even he hides behind the refree. Refree warns to Sasi that he might defend or attack him instead of doing it.
Sasi thinks if he know anyone of it then he will do it but he has no idea about anything. He starts to play hide and seek in game. Oppositer shows black and blue to him. Sasi fell down after knocking out at him. Vinoth smiles seeing it. But Prabhu reach there on time.
He touch Sasi hand. Sasi ask to him why did he came late. He punchard his body. Prabhu replies to him that he reached here early but hidden from all to know the strength of the oppositor. Sasi glares him for that he gave him as a bali. He enters into the rings and glares the oppositor. Vinoth smirks.
Sathya is feeling bad about the incident. Even janaki saying to Sathya that everyone was celebrating our Diwali happily but one incident spoiled everything. She ask to her where is Prabhu? She replies to her he went out for small work. Sathya gets a call. She goes to pick it.
Vinoth says to her long time no see its Vinoth. She ask to him what do he need why did he called her? He replies as Prabhu life. He is infront of him. Sathya don't understand anything. He says to her that he know well now Prabhu is not in home because he voluntarily entered into lion cave to sacrifice his life.
Sathya warns him to don't do anything to him. Vinoth convey the matters to her that Prabhu joined in the competition to help his mechanic wife. All are proffesional boxers he gonna die in the ring. If she wish to see him alive come and see him before he die. Sathya warns him if anything happen to him then she will never leave him alive.
Sathya connected all the incidents and confirmed Prabhu doing this for her. She close the door. Then open it changing to her old form, Tomboyish girl style rolling up the brazelet and shirt sleeves.
Episode end.