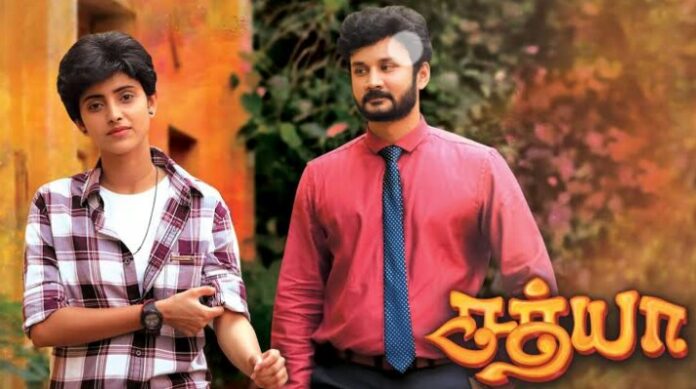 Sathya Upcoming Story, Spoilers, Latest Gossip, Future Story, Latest News and Upcoming Twist, on Justhowbiz.net
Today episode starts with Prabhu stops Sathya mom and Grandma and ask them to leave after eat the food. They sits back for him. Sathya turns to happy Prabhu thinks he done a good job by bringing them home because Sathya is too happy now. Just then Kathir and Soumya reach home in auto after worshipping god.
Kathir turns to happy seeing Sathya mom and grandma there. He and Soumya fall on their feet to get their blessings. They blessed them happily. Indhumathi apologise to them for not inviting them for Kathir and Soumya marriage. Sathya mom replies to her its not a big problem actually Sathya already informed to her in which situation their marriage happened. Sathya smiles happily.
In Sathya room. Her mom, grandma, Prabhu, Soumya and Kathir are there. Sathya mom informs to Sathya that she bring one thing for her its her favourite item. Prabhu thinks what's in it to think a lot. Her mom gives an hint to her that its her favourite item she always used to ask her father to buy it for her. Sathya thinks a while and says its moyingam. Prabhu thinks what is it?
Everyone smiles seeing Sathya face. She ask her mom to give to her soon she wanna taste it. Prabhu remind the name he got a flash of his marriage day Mandapoona mixed something in his hand and give to them. He often brushed his hand on under arm and sweating body while doing it. Prabhu feels like vomiting thinking about it. Sathya eating it giving funny expressions Prabhu getting weird thinking.
Sathya ask to her mom where did she brought it? She replies as Azhukku trouser. Prabhu ask to her who is that? Sathya says to him that he is living in her area but he never wash his trouser so we kept this name for him. Prabhu makes faces hearing it. Kathir says his dishes were super tasty. Prabhu smiles fakely. Soumya complaints that she didn't give it to her. Her mom give one packet to her Soumya enjoys eating it. Prabhu ask to her how comes she know it all?
 Soumya shares to him that Kathir always brought it for her there so she love it. Prabhu thinks he won't be a IAS officer but a foodie. Sathya mom gives one packet to him he deny it. But sathya feeds him he is also eating it without option. He thinks today his stomach gonna be upset.
Sathya go to kitchen and ask Indhumathi to sit aside she gonna cook for everyone today. She strictly says to her don't interrupt her she nods. Sathya cooking for all happily. Prabhu stare her and feels happy seeing her smiling whole hearted he thinks now Sathya anger on him flew away seeing her mom. Sathya ask everyone to sit.
 Indhumathi ask Sathya to sit. She mentioned Indhumathi as Indhu so Sathya mom got angry on her and question her why did she speaking with her in this way? Sathya says to her she likes to call like that. Her mom raise her hand to slap her but Indhumathi stops her and says she like the way call her. Sathya force her to sit and eat she will serve to her. Prabhu comes there and make Sathya to sits with her. He starts to serve everyone. He is treating Sathya specially.
Sathya ask to her mom she wanna lay on her lap. She agrees and starts to caress her head. Her mom says to her she scared how will her life end and whom will marry her but her all tension flew away seeing her happy in this house. She proved as a good daughter in law. She reveals to her that Prabhu asked them to meet her.