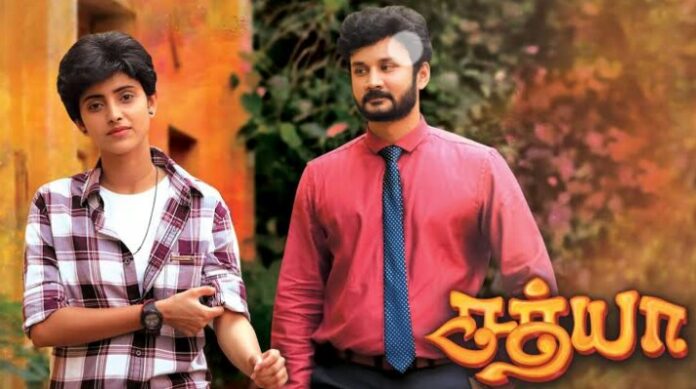 Sathya Upcoming Story, Spoilers, Latest Gossip, Future Story, Latest News and Upcoming Twist, on Justhowbiz.net
The episode starts with Sathya signals to Prabhu. He puts an sudden break. Goon lost his balance and comes to front. Sathya blocks his hand and tries to remove the knife from his hand. She again signals to Prabhu. He locks his head and starts beating him. He is moaning in pain and tries to open the door. He slits Sathya's hand and gets release from her grip. He runs out of the car in the nick of time. Sathya winces in pain.
Prabhu gets angry and shouts on him. He tries to catch him but Sathya stops him by saying they are getting late. Prabhu gets worry for Sathya seeing her hand bleeding. Sathya asks him to drive. He replies to her she is bleeding he is going to hospital. She deny it reasoning Latha is so adamant girl she may stops her marriage in tension. Prabhu takes out his kerchief and ties it around her hand. He is crying seeing her Sathya feels bad for him. Sathya assures to him that she is ok.
Latha and her mom are waiting in mandap. Groom is chanting the manthras with priest. Groom's parents are watching Latha. They goes near them and enquires about Sathya. Latha replies to them Sathya didn't reached yet. Her soon to be mother in law asks her to call Sathya and learn from her where is she? She dials to her but line not reached. He asks her to contact Prabhu. Same goes with Prabhu too. Latha's mom says to them they can wait till they come. Mother in law replies muhurth time is running so they can't wait much. They moves near groom.
Sathya and Prabhu are going in car. Goon informs to Chidambaram that Sathya and Prabhu locked him so he escaped from them. Chidambaram scolds him for ruining the plan. He dials to his henchman to use the second plan. Sathya car is coming there Chidambaram's henchman throw the egg on car glass. Prabhu stops the car and scolds him. Sathya stops him getting down from car. She alerts him its all preplanned. She asks Prabhu to drive the car she will give direction to him.
Latha and her mom are still waiting for Sathya. Her mother in law comes there and informs to Latha that they have no hope Sathya will reach there. Already Sathya is in critical state she may not allowed to go out, so waiting for her is waste of time. Latha deny it. Her father in law says to her may Sathya wishes to see this marriage happen without delay, that's why she gave the nuptial chain early itself. Mother in law says to her atleast chant the manthras and wait for Sathya. She agrees to do it.
While groom takes nuptial chain she stops him. She asks them to wait for 5 minutes. If Sathya won't come then she will stop the marriage. Sathya comes there and scolds Latha. She asks her to sit on mandap. She gives the nuptial chain to him. He ties it around her neck. Latha notices the wound in Sathya hand and enquires about it. Sathya narrates everything to them. They praises Sathya.
Prabhu excuses all and takes Sathya from there. Prabhu feels something strange. Their car's tyre got punchard. He checks the time. Nurse informs to Prabhu that chief doctor going to take rounds in hospital. Prabhu says to Sathya that they are going to caught.
Episode end.