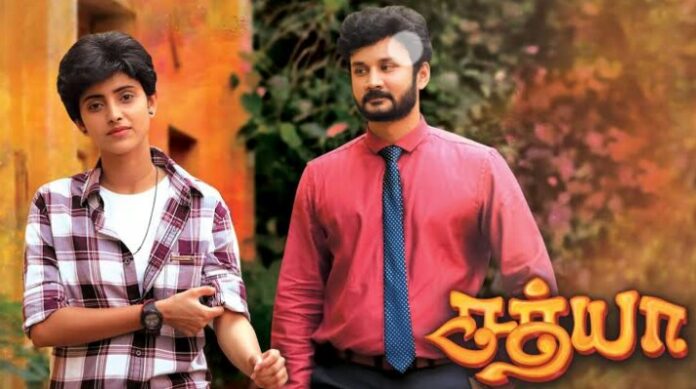 Sathya Upcoming Story, Spoilers, Latest Gossip, Future Story, Latest News and Upcoming Twist, on Justhowbiz.net
The episode starts with Selvi's mom says to all that Sadhasivam threatened her that's why she accepted that money for sake of Selvi safety. She has no intention to collect that money from him. Sadhasivam threatened with Selvi life that's why she took that decision. Sathya stares them in disguist and says look at them how shameless they are. They threatened with one girl life. She knew well something happened like this that's why she played a drama to bring out the truth. She informed to all that Selvi's mom backed off from marriage out of the blue giving lame excuses. It made her suspect something fishy behind her act! She played like her money was missing in order to bring out this truth in front of all. She apologise to Selvi mom for her behavior. Veerasingham complaints to Anitha that Sathya made them fool again. Without knowing her plan they voluntarily fell into her trap. Anitha agrees with him.
Sathya holds Selvi's mom hand and says to her that they are poor but they will never go behind money. They have no greed like rich people Sathya questions them what is status? What is that quality Sadhasivam mentioned about? All humans are same. Blood is running in all humans body in this what special difference he has? She questions Anitha to say what quality Sadhasivam has? Doesn't Anitha is also woman? Can't she able to understand another woman pain? Doesn't she feel Saravana done wrong to her? She demand Anitha to say the answer. She goes near Sadhasivam and says he threatened one innocent to save his spoiler brat son. She doesn't know in which category he come in?
She pointed Nirmala and says she too has one daughter though she is supporting her son blindly, she can't able to say what quality is this? Saravana whom betrayed one girl and ruined her life then standing here without guilt. What quality is this? Sathya assures to Selvi mom that none can dare to touch Selvi here. Selvi is Sathya's responsibility here after. If someone want to touch her they want to cross Sathya before that. Sathya says to Sadhasivam clearly that Saravana want to marry Selvi coming Friday or else get ready to send him inside jail. She leaves to take dinner.
Selvi is taking clothes from terrace. She notices Saravana there and gets scared seeing him there. She about to leave Saravana stopped her. He complaints that she is not talking with her. Selvi questions him what did he want? Saravana says to her that she is his wife then why did he avoiding him like this? She complaints to him that he broke it then how could he talk like this to her? Saravana says to her that he is going to marry her again. Saravana says to her that his father has no interest in this marriage.
Sathya is adamant to arrange this marriage. He says to her that his father will kick her out of the house if their marriage is over! He asks her to come out at night after everyone slept. Sathya questions him after that? Is he going to leave her again in some other place. Saravana gets shock to see her there. Sathya warns him to stay away from Selvi. He is not allowed to meet her before marriage. Sathya says to him that she left him without killing for sake of Selvi. She He asks him to leave from there without glaring.

Goons notices Prabhu coming on that way. They kidnaps him and takes him inside the van. Prabhu sees his mobile down. He locks his pattern through his toe. He sends the video to Sathya. Sathya waits for Prabhu and complaints to Indhumathi that he didn't come yet. She received the video and gets shock to see it. She informs to all that someone kidnapped Prabhu. Sadhasivam complaints that Sharna, Kuberan, Vinoth or someone else may kidnapped him. Why not Sathya enemy can also kidnap him. He says that till he find out Prabhu Saravana marriage won't happen. Sathya deny it and says this marriage will definitely happen. She know well how to find out her husband.
Episode end