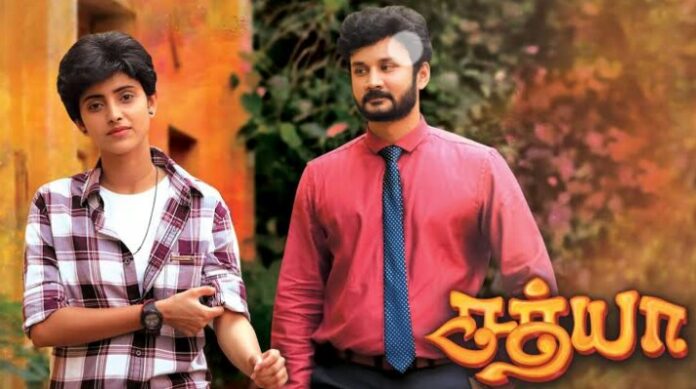 Sathya Upcoming Story, Spoilers, Latest Gossip, Future Story, Latest News and Upcoming Twist, on Justhowbiz.net
The episode starts with Prabhu manages to lie with Indhumathi and go to upstairs. Veerasingham stops him and enquires him what is he hiding behind? Prabhu thinks that he will snatch it and eat alone. Prabhu lies to him nothing is he hiding. Veerasingham smells gulfi smell there. Prabhu teases him that he was turning like a god in smelling. He can better join In police station behalf of dog. Veerasingham makes faces. Prabhu informs to him that gulfi seller is going rounds in our area. He can go and buy it from there. Anitha calls him so Veerasingham leaves from there. Prabhu thinks that he needs to Cross many check post to save the gulfi. He enters into his room. He says to Sathya that he has one surprise for her.
Sathya questions him what's that surprise? He informs to her that she asked him to buy it for her in kodaikanal. Sathya doubts what's it. He asks her to close her eyes. He shows the gulfi to her. Sathya sigh seeing it. Prabhu questions her doesn't she like it? Sathya informs to him that she likes to eat it in chill climate not here. Prabhu says to her that everyone used to eat it in hot climate. Sathya says that she don't like it. She likes to drink coffee at this time. Prabhu complaints that she has weird taste. Sathya says to him that she is like that only. He asks her to eat it for him. She agrees to eat it. He says to her that she wants to eat the gulfi which he sip it. Same goes with him too. Sathya questions him Is it romance? He nods. He tries to take the gulfi but only sticks comes out. Sathya starts laughs at him. Both are playing with it while sharing a eyelock. Both spends quality time with each other.
Vasanthi and Selvi's mom are cooking in kitchen. Nirmala comes there and informs to her that Sadhasivam calls her. She go to meet him. Sadhasivam asks Nirmala to give the cover to her. She enquires to him what's it. He asks her to open it. She finds money in it. She questions him why did he giving these much money to her? Sadhasivam asks her to search a slum boy for Selvi with this amount. His son won't marry her daughter. Selvi's mom deny it and says to him that they are not cheap to do like this. Saravana who destroyed Selvi life so he want to marry her. Sadhasivam asks her to stop raising her voice against him. He adds that she has no status to even talk with him. How could she think to perform her slum daughter marriage with his son? He says to her clearly this marriage will never happen. Selvi mom deny it.
Sadhasivam threats her that he knew well how to stop this marriage. Don't play alot with him in the hope that Sathya is behind them. He warns her that drama he will make it real. He will kill Selvi. If she again start a drama with Sathya then she will see her daughter in life less state. If she stand adamant to perform this marriage then he will set people to kill Selvi. May gas cylinder burst out here, lorry can hit Selvi while going in road, she can fall down from terrace. If she wants to see her daughter alive then take this money and leave. Selvi's mom leave from there in tears.
Sathya asks Selvi to get ready for shopping. Her mom says to Sathya that she don't like this marriage to take place. She says to her that none like this marriage at all. Even Saravana disliked to marry Selvi here. If she married to this house then she can't able to live a peaceful life here. More then they can't able to fight with them. Selvi questions her why is she talking like this? She says to her that she will always thinks good for her life. She already lost her life not listening to her words. Selvi says that Sathya worked hard for this marriage. Selvi's mom says to her clearly she disliked to give Selvi to this house and leaves. Vasanthi informs to her whatever happened? Sathya checks her room and finds the amount cover from her room. She confirms it with Vasanthi. Sathya thinks about it.
Episode end.