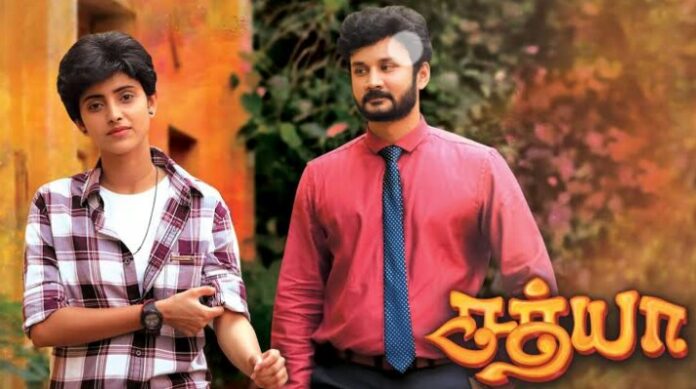 Sathya Upcoming Story, Spoilers, Latest Gossip, Future Story, Latest News, and Upcoming Twist, on Justhowbiz.net
Today's episode starts with Kumaravelu asking to Soumya to tell her interest in this alliance. She hesitate to reply first then inform them she don't like this alliance. Everyone got shocks hearing her answer. Groom mom ask to her didn't she liked her son ? She reply her that she wanna become a IPS officer so don't like this marriage.
Everyone leaves sigh in relief. Kumaravelu liked her passion and tells her every women should be like her and inform to them after marriage she can continue her studies he has no objection. He will treat her as his daughter. Groom too agrees with him everyone feel overwhelmed in his statement except Kathir and Soumya. Sadashivam announce the engagement after a weak giving shock to the lovers. Groom family leaves from there . Kathir feel unhappy hearing Prabhu and Sathya praising the groom infront of him.
Once they left from there Soumya phone to Kathir and ask him to do something. He decides to talk with Sathya about their love matter. Sathya welcome him happily and praise the groom infront of him again. Satya shares to him that she was worried for Soumya when this alliance came for her but now feeling easy hearing their positive words.
 Kathir about to tell her that his love on Soumya but Prabhu enters in on time so he paused. Prabhu too ask him how was groom? He tells him as good. Prabhu too starts with Sathya in praising the groom .Kathir feel uneasy hearing it all and leave from there room worried.
Sadashivam blocks his way and insult his status while comparing with his soon to be son in law. He even tease him whether he informed to Sathya or not ? He reveals to him about his intention to kick out Sathya from this house using his love matter. He stare him in confusion.
 Sadashivam explain him that if Sathya comes to know about his love she will definitely take a stand for them so he can use it against Sathya by reasoning that she trying to destroy Soumya feauture. Obviously the result will be Sathya out of house. Kathir feel disappointed with these all and left.
Sathya comes to Prabhu office , he asks her why did she come there? She informs to him that uncle called her to come here. Prabhu doubts why? Sadashivam inform to them Sathya is here to appologize to the shareholders. Prabhu disliked this idea and ask Sathya to leave. Sadashivam tells him Satya should take the responsibility for her words because she already announce that she will appologize for her mistake. Prabhu deny it by saying he will do it instead of her . Sathya stood adamant that she will appologize.
Shareholders inform to Prabhu that 20% of shares is in loss so he must take responsibility. Sathya enters in and greets them .Sadashivam introduce her as Prabhu wife none give interest to her and turns their face. Prabhu kneely notice these all. Sadashivam insult Sathya as uneducated infront of them. Prabhu stare Sathya who bending her head down in shame.