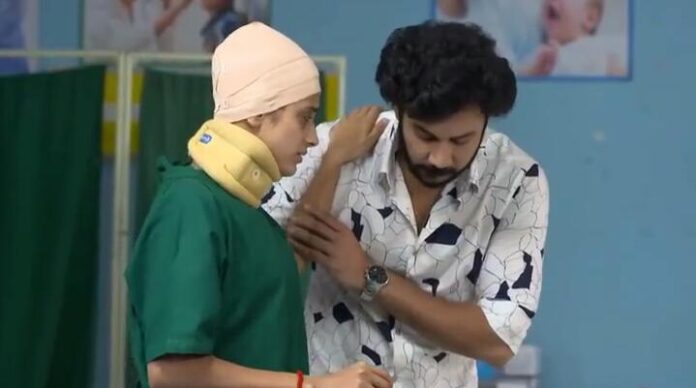 Sathya Upcoming Story, Spoilers, Latest Gossip, Future Story, Latest News, and Upcoming Twist, on Justhowbiz.net
Zee Tamil's popular hit show " Sathya" is all set to engage the audience with its interesting storyline. The audience is in love with the lead couple Sathya and Prabhu. We will witness the romance sequence in the upcoming parts. Earlier it is seen that Sathya gets good news from Indhumathi and now it will be seen that Prabhu helps Sathya to walk
In the previous episode, it is seen that Prabhu completes the drawing and dancing. Indhumathi notices him and feels happy. Prabhu dreaming about Sathya and dancing while hugging the picture. Saravana's new get-up is sained to impress Selvi. Indhumathi shares the good news to Sathya that Prabhu accepts her as his wife. Sathya asks Indhumathi to pretends like she knows nothing. Saravana pretends to be nice to Sathya.
In the upcoming episode, it will be seen that Prabhu visits Sathya. Sathya feels happy to see him there. She gives a signal to him. Prabhu signals back that Doctor asks him to give walking practice to Sathya. Sathya nods. She stands straight with the help of Prabhu. She is walking slowly with Prabhu. He says to Sathya she may slip. Sathya replies to him that Prabhu will be there to hold her.
What will happen now? When will Prabhu show the drawing to Sathya? The upcoming episode will answer to our all questions stay tuned to our page.