Show Ishq Mein Marjawan 2 is currently entertaining the audience with their suspense plot. Both Helly Shah and Rrahul Sudhir is leaving no chance to woo the audience. Their onscreen chemistry is creating magic and making the fans to fall for them each single day. The romance between this newly made jodi not yet started; still hate-love story always has a separate fan base and RiAnsh undoubtedly capturing our heart!
So, today in our Saturday Special article we are going to highlight; 5 times when Vansh proved he cares for Riddhima inspite of hatred and proved he is a 'thorough gentleman' too.
5 times when Vansh proved he cares for Riddhima!
Vansh helped Riddhima to tie the dress knot: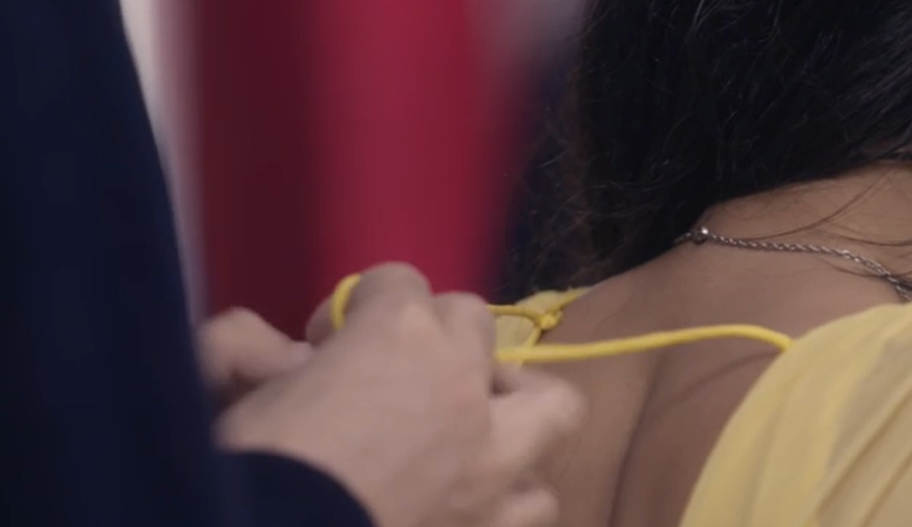 Riddhima was struggling to tie her dress knot, Vansh comes for her rescue. Riddhima denied to take Vansh's help. Still he tied the knot and walked out simply without making Riddhima uncomfortable.
Vansh gives his bed to Riddhima:
Aww.. He is an absolute gentleman. He didn't let his wife to sleep on the couch. He gave his bed to Riddhima so that she can have a good sleep.
He gently returned Riddhima's dupatta:
This scene has everyone's heart, all thanks to wind. Wind carried away Riddhima's dupatta when she was standing at the window. Her dupatta got stuck on Vansh's head. Vansh gently headed towards Riddhima and covered her back.
Vansh asked Riddhima to change:
Riddhima and Vansh argue over Ragini under the shower. Riddha shivered because of it. At that moment, Vansh was angry with her, still gave her towel and asked Riddhima to change before coming out. Aww..we truly got smitten by Vansh's this unexpected act!
Vansh helped Riddhima to zip her dress:
Vansh once again helped Riddhima to zip her dress without making her uncomfortable.
Thus, these moments prove Vansh cares for Riddhima. Tell us your favorite RiAnsh moment in the comment section below.
Stay tuned with us for more news, spoilers and latest updates.