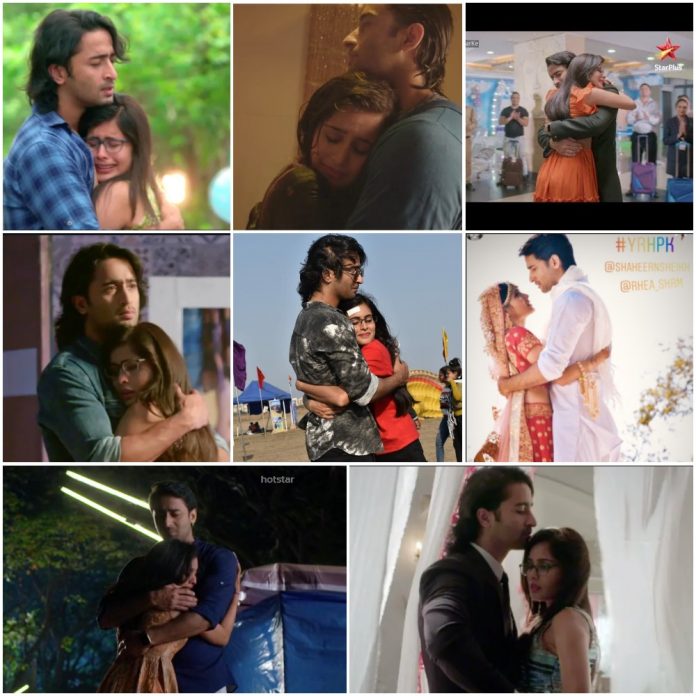 Lockdown blues: here we bring to you some of the best Mishti and Abir's hug moment; pick your favorite from the list.
It's one year to the story of Abir and Mishti and their impact is such that we cherish even the argument between the Mishbir because we all know at the end of the fight 'Mishbir' wala hug is waiting for us to drool on. Mishti and Abir of Yeh Rishtey Hain Pyaar Ke always ends up sharing a tight hug if they are happy, sad, emotional or overjoyed. Thus, today under our Saturday special we will list some of the so far best hug moment of 'MISHBIR'. Don't forget to comment for your favorite hug moment of Mishti and Abir. So, here we go!
After Abir rescues Mishti:
Few of the boys were trying to make Mishti consume alcohol. Mishti fights back but boys gripped her tightly. Abir makes his entry and the boys ran away. Mishti runs to Abir and hugs him tightly. The way she clutched Abir and Abir consoles her gave a kiss on her head, Mishbir made us to fall for them.
Mishti breaks down:
Mishit decides to find Kuhu after she has gone missing in search of Kunal. On the way to find her Mishti thinks she will not cry. She spots Abir standing and runs to him. Abir and Mishti hugs each other tightly again. Mishti breaks down in Abir's arm.
Abir completes the challenge:
Abir brings Mishti a bracelet. Mishit asks Abir to make her wear the bracelet if he succeeds in catching her. 'Aankhon Ki Ghustakiyan' moment gave us the romantic Mishbir hug, all thanks to Abir !
At the Airport:
This one is all time favorite Mishbir moment. Abir stops Mishti at the airport. He confesses his love for her. Mishti and Abir's tight hug at the airport stopped our screen. Abir literally picked Mishti in his arm and the duos were living the moment.
Mishti and Abir's hot hug under shower:
Mishbir shared a hot hug under shower. Abir was smitten seeing Mishti's beauty. Mishti feels shy and hides herself into Abir's arm. One of the breathtaking Mishbir moment.
When Abir's accident news made Mishti restless:
Here, Kunal played a cupid. He on a call fake talk and makes Mishti hear that Abir has an accident. Mishti who was all set to get ready to marry Nishant the very next day escaped from the house in search of Abir. Restless, Mishti was looking around for Abir. She spots Abir standing with his arms open. Mishti took no time to run and hug him tightly. This passionate hug of MISHBIR has viewer's heart.
On the ambulance top:
Mishti finally escaped from her wedding. She reunited with Abir at the top of the ambulance. Abir and Mishti shared an tight hug.
Abir supported Mishti:
Abir comes to know about Mishti fear of height. He accompanied her for the Paragliding. Mishti was happy that she has finally over come from her fear. She hugs Abir tightly.
So these are the few most famous Abir and Mishti moment.
Stay safe at home and keep visiting us for more news, spoilers and latest updates.