Nothing has been changed in Indian soaps if you look closely, each daily soap are still incomplete without its four major components. No drama seems interesting unless it has a: VENGEFUL VAMP, IDEAL DAUGHTER-IN LAW, DEVOTED HUSBANDS and FUNNY COMEDIAN. To run a show these four plays a vital role and from ages and more in each serial they are entertaining the masses Then and Now.
Looking at these we may conclude that nothing has been changed on ITV but if you go deeper something has changed the complete outlook of small screen. And it's none other than content-driven shows. Shows even today contain all its components but earlier stories are more into conspiracies and Saas-bahu but now though a fiction but plots are strong.
Producers do focus on longevity of the show but they are also coming up with a novel concept so that their shows don't look repetitive and gives a fresh vibes to the audiences. They are trying to bring the storyline which has something to deliver. Shows nowadays are full of subject matter and the makers do full justice by revolving the story on the core concept and icing it up with suspense, drama and romance for ENTERTAINMENT ENTERTAINMENT and ENTERTAINMENT!
 Cos its Saturday, so here we have picked up few newly launched content-driven shows for you. Don't miss watching them, as they are full of suspense, drama and romance.
YEH RISHTEY HAIN PYAR KE: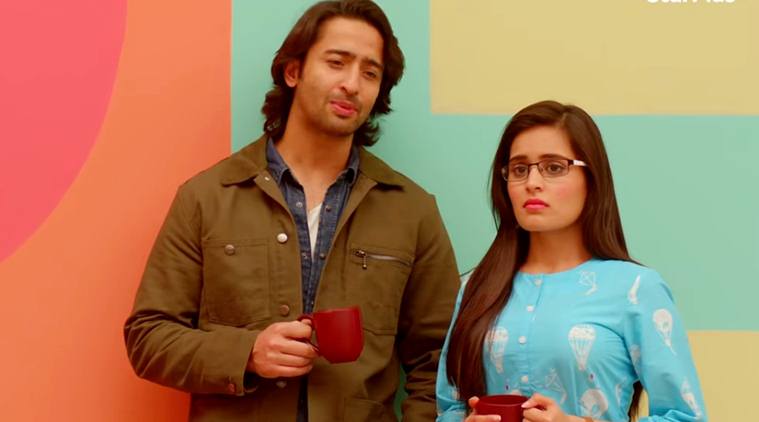 Produced by Rajan Shahi, Shaheer Sheikh and Rhea Sharma starring show Yeh Rishtey Hain Pyar Ke comes up with a plot to break the stereotype against the age-old concepts of arranged marriages.
Through Mishti this drama content is to raise all the high points on old concepts of arrange marriages, love and relations. Earlier girls were not allowed to meet with husband to-be before marriage and currently the track of the show is focusing on that when Mishti asked she wants some time to spend with Kunal. Now what happens next and how Mishti will deal with it for that don't miss watching YEH RISHTEY HAIN PYAR KE, MON-FRI at 10pm on Star Plus and Hotstar.
Ek BHRAM- SARVAGUN SAMPANN:
This newly launched show is full of suspense so far. The daughter-in-law of a reputed family is shown an ideal Bahu with hidden intensions. This is fresh and first time on ITV they are showcasing 'Sanskari Bahu is good with some bad intentions too'.
Well, the promo till date is saying the same but don't miss to know the real reason behind her suspicious act. Shrenu Parikh, Zain Imam starring this show telecasts at 7pm Mon-Fri on Star Plus.
SUFIYANA PYAAR MERA:
We have fewer shows on Muslim backdrop but here introducing Sufiyana Pyaar Mera with drama and romance.
In the show a father wants her daughter to get married to an NRI, but the boy and girl both are not ready for this marriage. What they both will do to tackle this situation, keep watching the show.
Actress Helly Shah in the series is playing a double role and sharing the screen with the actor Rajveer Singh. The show telecasts at 10pm Mon-Fri on Star Bharat.
Guddan Tumse Na Ho Payega:
Nishant Malkani and Kanika Mann starred Guddan Tumse Na Ho Payega too has a different and new concept with Guddan a 20year old girl becomes a mother-in-law of her three-daughter-in law. How she manages her life and relation at this age the plot of the story revolves around it. The show airs on Mon-Fri at 8 pm on Zee TV.
Muskaan:
Star Bharat show Muskaan is a story about a struggle of a bar dancer Aarti and her daughter Muskaan. Aarti wants her daughter to get educated and never see a life which she has seen. So far in the story Raunak entered into Muskaan's life and currently the duo is seen helping, sharing and caring each other.
Actor Sharad Malhotra and actress Yesha Rughani starred this show airs Mon-Fri at 9:30pm.
These are few content-driven shows which we have listed drop the name of your favorite show in the comment section.
Stay tuned with us for more news and updates.
HAPPY WEEKEND!