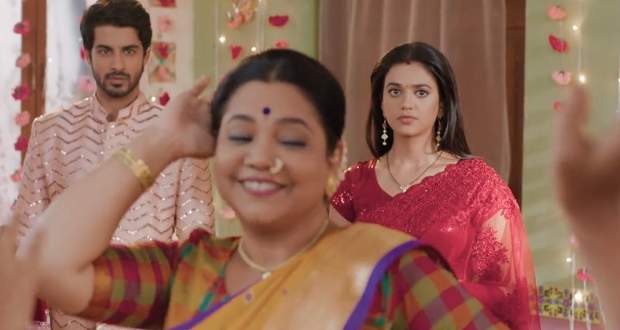 Colors TV show Gathbandhan is witnessing high voltage drama after Mai and her family is found not guilty in drug case.
Mai is doing drama to make Dhanak feel guilty for whatever she has done with them. Mai in front of Raghu is acting well so that Raghu hates Dhanak. Dhanak on the other hand is trying to again make her place in Mai and Raghu's heart but Raghu is avoiding her.
Dhanak apologizes to mai in front of all. Mai makes her video and shows Raghu filling his mind wrongly. Furious Raghu breaks all the things in room. Dhanak asks him the reason for his anger. Raghu says to her that she has seen his love and now she will see his hatred. Dhanak gets stunned hearing Raghu.
Now in the upcoming episode will see, Mai will plot once again against Dhanak.
Dhanak glues the wedding picture of her and Raghu. Mai quietly watches her. She thinks she won't let her join the relation back. Afterwards, Dhanak goes to the kitchen and asks Mai if she can cook. Mai will send Dhanak away and will add chemical in her food.
Do Mai will be able to get succeed in breaking Dhanak and Raghu's relation or Dhanak will fail her plan.
What Dhanak will do next to mend the broken relations will be interesting to watch. To know more keep watching Gathbandhan, mon-fri on Colors TV and anytime on Voot.
Stay tuned with us for more, news and updates.