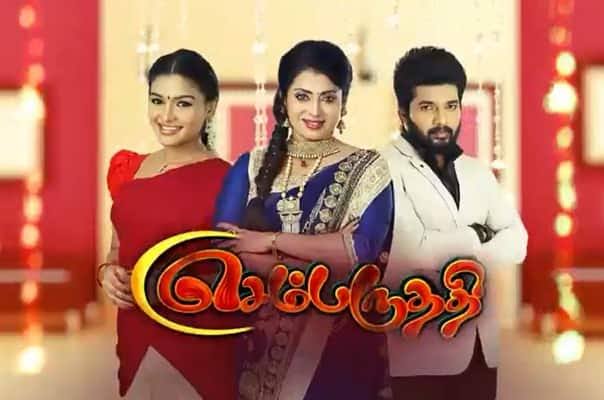 Sembaruthi Upcoming Story, Spoilers, Latest Gossip, Future Story, Latest News and Upcoming Twist, on Justhowbiz.net
The episode starts with Perumal visiting Akhila's office. He is surprised seeing everyone greeting him and asks about the same to Gajendiren, who tells that Akhila ordered that everyone to treat him as they treat Akhila. Perumal says that Akhila has a big heart and he never got such respect in his 35 years service in corporation. Perumal asks to meet Akhila. Gajendiren says he can meet Akhila whenever he wants.
Perumal starts talking with Akhila. He notices Akhila taking balm to apply. He asks if she has having headaches. Akhila replies yes and adds doctor gave tablets. Perumal says he will bring a homemade medicine which will cure her headache within a second. He leaves.
Perumal seeks Parvathi's help to make thuthuvalai rasam as a lady that he knows is suffering from headache and he has told that he will bring it for her. Parvathi thinks she used to make thuthuvalai rasam whenever Akhila got headache. She will make rasam for that lady considering her as her mother. Parvathi prepares the rasam and gives to Perumal saying it can be consumed either with rice or alone as soup.
At the office, Vanaja brings lunch for Akhila, who questions her who asked her to bring lunch. Vanaja says she's worried for her, as she's having headaches since morning. She asks Akhila to have lunch. Just then Perumal comes there. He asks Akhila indicating Vanaja if she's her servant. Vanaja looks on shocked wondering who he's. Perumal says he has brought the thuthuvali rasam that he was talking about. Perumal orders Vanaja to serve the food fast. Perumal serves Akhila the rasam. Akhila have the first bite. Akhila tells that the rasam tastes similar to the rasam made by the girl, who was a cook at her home.
Perumal questions if the girl left job after getting married or she fired her. Akhila angrily says not to question about that girl, which shocks Perumal. Akhila feels guilty and apologizes to Perumal. Vanaja wonders who the man is and why Akhila gives him so much respect. Perumal orders Vanaja to serve rice. Akhila hapily have food. She says she feels better now and thanks Perumal, who says to take the rasam to home and have it at night.
At Akhila's house, Akhila and Purushotaman sit to have dinner. Purushotaman asks how's her headache. Akhila tells about the thuthuvalai rasam and asks Pattama to bring it. Pattama thinks it looks similar to the rasam made by Parvathi. She serves Akhila the rasam and tells her about the same. Akhila says she too felt like her, but it's not made by Parvathi, it was brought by her new employee. They finsh the dinner. Vanaja is watching everything from far. She thinks of finding the mystery of the rasam. She tastes the rasam and wonders if Parvathi made it. She questions Pattama about the same. Pattama says she's also feels like that but she doesn't how the rasam came here. Vanaja is determined to find it out.
Parvathi calls Aishwarya. The latter asks about Adhi. Parvathi says he returned home safely. Vanaja, who is going that side, overhears the conversation. Aishwarya says that nothing can harm her or Adhi as their family jewels are with her. Parvathi asks to take the back Jewels. Aishwarya says she is the first daughter-in-law of this house so that she had given the jewels to her for doing pooja and asks her to keep them. Aishwarya asks about their wedding anniversary. Parvathi says it's coming 10th. She says they they planned to do Divine marriage on that day and invites Aishwarya. The latter asks Parvathi to wear their family jewels on their wedding anniversary.
The episode ends.