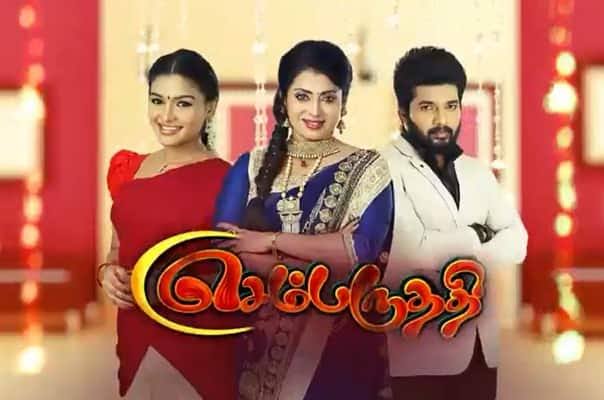 Sembaruthi Upcoming Story, Spoilers, Latest Gossip, Future Story, Latest News and Upcoming Twist, on Justhowbiz.net
The episode begins with Aishwarya and Parvathi talking in phone call. Parvathi invites Aishwarya to the temple where they arranged for Divine marriage on the occasion of their wedding anniversary. Aishwarya convinces Parvathi to wear their family jewelries. Vanaja overhears Aishwarya and plan to expose Aishwarya in front of Akhila.
Vanaja meets Akhila in the office. She tells she has gone to the temple to pray for Akhila and the priest asked to bring Akhila tomorrow as there is some special occasion. Akhila angrily says she's finding excuses to talk her. Just then Perumal comes there. Vanaja shouts at Perumal to come later as they are having an important discussion. Akhila stops Perumal asking him to sit. Akhila finds Perumal sad and asks what matter is. Perumal says there's a couple for rent in his house. Tomorrow is their wedding day.
The couple had celebrated their wedding anniversary grantly and he and his wife has decided to do the same for their wedding anniversary. He says he wants 50k and he will return in two months. Vanaja gives 50k saying he need not to return it. Perumal says the couple's family is angry with them since they did a love marriage. He requests Akhila to come and bless the couple. They will be happy to get her blessings and adds that girl, who cooked rasam for her, is the one who did love marriage. Akhila accepts his invitation and asks about the function Venue.
Perumal says they're celebrating in the temple nearby home. Hearing the temple name, Vanaja thinks Aishwarya was also talking about the same temple and wonders whether the couple that Perumal is talking about is Adhi and Parvathi. Akhila asks Vanaja she waned to go to the temple. Vanaja says Akhila should go to the temple mentioned by Perumal and bless the couple. Akhila says she will definitely come to the temple to bless the couple. Perumal happily takes her leave. Vanaja thinks if she follows Perumal, she will get to know the couple.
Vanaja starts following Perumal. She stops her car near Perumal house. She sees Parvathi coming out of Perumal's house to throw the garages. She smirks thinking Perumal invited Akhila to bless Adhi and Parvathi.
Vanaja meets Nandhini. Vanaja informs Nandhini that Parvathi has Akhila's family jewels. Nandhini says she knows it but couldn't expose Aishwarya. Vanaja says Aishwarya asked Parvathi to come to the temple wearing family jewels on the day of Parvathi and Adhi's wedding anniversary. She adds Akhila will also go to the same temple.
Nandhini is surprised. Vanaja says Akhila's new friend, Perumal, has invited Akhila to bless the couple, who is staying for rent in his house. She says Akhila is unaware that the couple is Adhi and Parvathi. Akhila will explode in anger seeing Parvathi wearing her family jewels, then She will use this opportunity to get close to Akhila. Nandhini says Adhi shouldn't be present in the temple since he will stop Akhila. Vanaja agrees with Nandhini. The latter says she will take care of Adhi and Vanaja says she will bring Akhila.
Parvathi is sitting thinking what gift to write in the paper. Adhi bring 4 gifts. He asks Parvathi to select any one then asks to guess what's inside and write it on the paper. Parvathi does so. They place the gift and the paper on the rack. They share a romantic moment.
Aishwarya informs Purushotaman about Adhi and Parvathi mariage anniversary celebration at the temple. Purushotaman is tensed how to go to the function without Akhila's knowledge. Arun suggests to know Akhila's tomorrow schedule so that they plan according to that. Just then Akhila comes downstairs. They all sit to have dinner. Vanaja is standing near the dining table. Akhila ignores Vanaja discussing with Arun. Vanaja sits down as Akhila didn't react seeing her.
The episode ends.