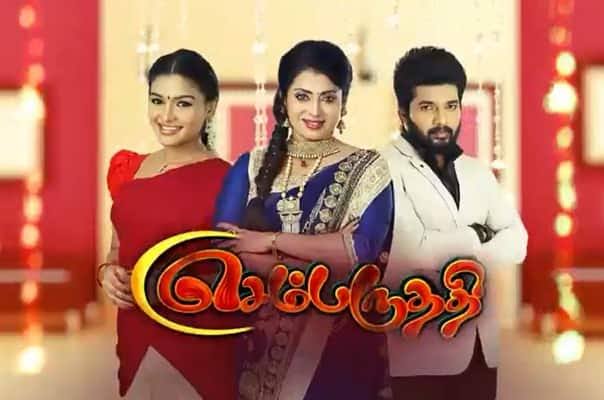 Sembaruthi Upcoming Story, Spoilers, Latest Gossip, Future Story, Latest News and Upcoming Twist, on Justhowbiz.net
The episode starts with Parvathi tying the red thread on Akhila's. Parvathi applies kukumam on Akhila's forehead and wishes for her fast recovery. Akhila asks if she knows her. Parvathi says who wouldn't know her. Akhila says she also feels like she knows her. Parvathi gets emotional and takes leave from there.
Akhila blesses her and goes into sleep. Parvathi comes back and touches Akhila's feet to get her blessings. Akhila opens her eyes and says to Purushotaman that she felt like that girl touched her feet. Purushotaman says she may wanted to get her blessings and nothing wrong in it.
Parvathi changed her dress and comes out. Purushotaman asks Parvathi if she is happy. The latter happily says yes. she says Adhi and Akhila will unite soon. She comes out and informs Adhi that she tied the thread on Akhila's hand and thanks him. Adhi says not to worry about Akhila and leaves the place with Parvathi.
Nandhini comes to the court. She thinks in mind that Adhi spoiled her plan and sent Vanaja to jail. The advocate says he tried everything but he can't get the bsil for Vsnaja since the case is very strong. Vanaja can get bail only after being in remand for 14 days. Nandhini asks to try any illegal ways to get Vanaja out.
Advocate says he also tried it but he couldn't get the bail since Akhila is also a member of Rajya Sabha. So he asks her to wait for 14 days remand to complete. Nandhini asks if Vanaja will surely get bail after 14 days. Advocate says he can't assure her anything. Police took action on the complaint given by Purushotaman and Akhila is still in the hospital. Vanaja's bail approval depends on Akhila's statement. Nandhini says Vanaja was loyal towards her and helped her in her plan. She worries what if she lost faith on her and turns against her.
Lady constables take Vanaja to her cell. Vanaja gets scared seeing the other prisoners and says she won't stay here with them and tries to run. The constables hold her and assure that she will be put in a special cell as she is an under trial prisoner. She says she likes the constables and asks them if there is Air conditioner and fridge in her cell.
They say yes. She tells them that she knows high officiers and if they take good care of her, she will help them to get promotion. The constables assure her that she won't forget them in her lifetime. Seeing her cell, Vanaja does drama and asks to see the jailer. The constables warn her and scared her. they ask her to go inside. Vanaja complains the cell is not clean. The lady constables give her broom and ask her to sweep her cell. Vanaja sweeps her room lamenting.
The constables come back. They ask Vanaja to come out of her cell and also make other prisoners to come out of their cells. They order Vanja to clean all the cells and go from there. Vanaja sweeps all cells and gets tired. The constables come back again and orders Vanaja to clean all the toilets next day.
The episode ends.